We buy Teslas and other electric vehicles – even if you don't buy from us.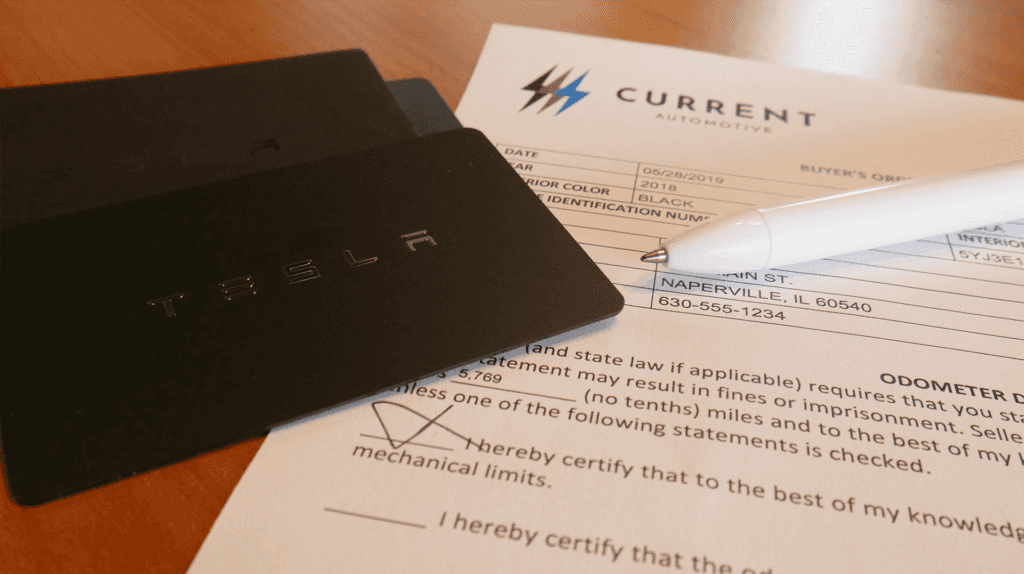 Privately selling your car on the used market is a tough task. Beyond the usual headaches of potential scammers and people wasting your time, selling an electric vehicle adds an additional challenge: teaching a new buyer about living with an electric vehicle.
Add that to the fact that most buyers want to finance and/or trade-in a vehicle, and you've got a situation where you have to wait weeks or even months until a serious, educated cash buyer comes along.
Alternatively, you could come straight to us. We buy Teslas and all other electric vehicles, and we want to make it as easy as possible for you to sell your car.
With over 16 years of combined experience at Tesla, we're electric experts. We remember all the changes Tesla has made to their vehicles over the years that affect the value of each car. We know what certain options are worth, and we understand the used electric vehicle market better than anyone else.
We can offer a fair and competitive value for your car – while still leaving enough room for us to keep the lights on.
Here's how it works.
1. Start by getting an estimate in less than one minute.
We use a tool that will give you an idea of what your car is worth in less than one minute. Follow this link or click on the "Value my Trade" button above to access it.
All it needs is the year, make, model, and miles of your vehicle to calculate an estimate – plus your contact information so we can take the next step.
2. A real, living human will contact you for appraisal.
Somebody will reach out to you to start the appraisal. They will need the following information:
–  Your 17-digit VIN (vehicle identification number)
–  The trim level of your vehicle and any valuable optional equipment
–  Condition of the interior, exterior, and mechanical bits
Our offer is good for 7 days or 300 miles. We know letting go of a once-beloved vehicle is a tough choice. Take your time, think it over, get it approved by the family.
3. Let us know your decision.
Obviously if you don't want to sell your car things end here. No hard feelings.
If you decide to sell your car, we can start the purchase process!
4. We need you to send us some documentation.
We need to see a few documents to start the purchase process. You can use a scanner (old school) or you can take photos with your smartphone (new school) – we're not picky.
Here's what we need:
–  An image of your state-issued ID
–  An image of your vehicle's registration card
If you own the vehicle:
–  An image of the front and back of your title
If you're still paying off the loan, we'll handle the payoff for you. We'll need:
–  The lender's name
–  The account number
If you have negative equity that's okay, although we do need you to cover the difference before we can buy the car. If this is your situation, our team will assist you with the process.
5. We'll send you a purchase agreement.
We'll overnight you a purchase agreement. You sign it, and overnight it back to us.
6. We pick up your car and send you payment.
If you're close you can drop your car off at our store, but shipping is a core part of our business model. It's easy for us pick up your car from anywhere in the continental United States.
Once your vehicle is picked up, we'll transfer you the funds or overnight you a check. Your choice.
7. All done!
Your car is sold. Enjoy your newfound freedom and cherish the fact you won't be getting calls from random internet strangers for the next month asking you if the car is still for sale.