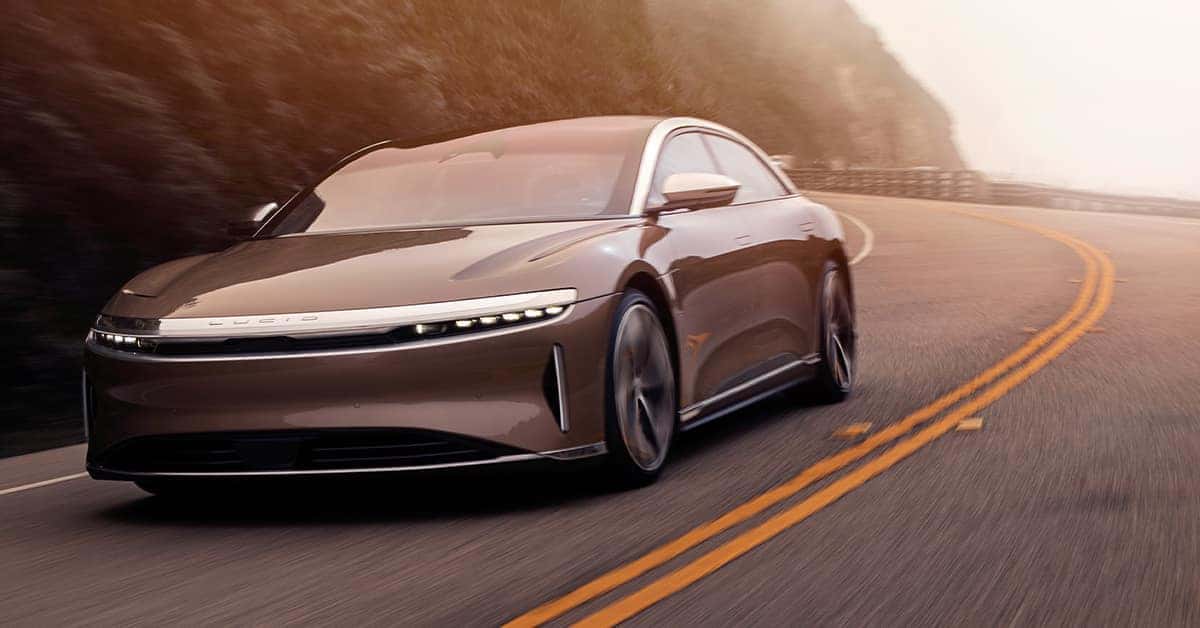 500+ Mile Range Lucid Air to Reach Customers in Spring 2021
Over 500 miles of range, 1,080 horsepower from three electric motors, 300 kW fast charging speed, and a standing quarter mile time of 9.9 seconds.
The specs on Lucid Motor's first production car might feel like a dream, but they're not.
The California-based startup automaker held a virtual launch event for its first vehicle, the Lucid Air, this week, but the reveal comes after more than 10 years of work. Lucid was originally founded in 2007 as Atieva. They focused on developing electric vehicle powertrains, and stuffed a cargo van, "Edna," full of their tech. It ran 0-60 in 2.74 seconds.
In late 2016, they changed their name to Lucid, which is a nice word that doesn't require a pronunciation guide. This was also around the same time the first prototype for the Air arrived in heavy camouflage – though the exterior styling looked nearly identical to the uncamouflaged sedan revealed this week.
Lucid chose the path less traveled for an EV startup too. In an age where any company could mock-up a render of "their new EV" to get big press, Lucid chose to stay relatively quiet up until the last few weeks before their event. They only recently ran a publicity push, highlighting the car's incredible specs to get some attention in the build-up to launch.
Those incredible specs come as a result of Lucid's proprietary technology, which they say has been designed entirely in-house. They claim significant hardware advancements in EV architecture, motor design, and high-voltage battery performance that has been driven by their involvement in the FIA Formula e racing championship. They have been the sole battery suppliers since 2018.
The industry standard has been 400 volts, the Porsche Taycan uses 800 volts, and Lucid even tops this. It is the first company to use a 900+ volt architecture, which allows Lucid to break a whole slew of charging-related records. Its peak DC fast charging speed is over 300 kW, or about 20 miles per minute. Its maximum Level 2 AC charging speed is 19.2 kW (roughly 80 miles recharged per hour). In comparison, Tesla vehicles top out at 11.5 kW – or about 34 miles of range per hour. The onboard charger is also bi-directional, enabling the car to be a battery backup for your home, or for the vehicle to be used to charge another EV.
That high-voltage architecture is used to power electric drive units which Lucid says are also cutting-edge. They have created the smallest, lightest, and most efficient units on the market by combining the motor, transmission, differential, and the inverter into one compact unit. It weighs just 163 pounds, could fit into a carry-on bag, and produces up to 670 horsepower.
"Because the motors are so compact, we're able to fit them in different configurations within the car. We can fit one, two, or three, each of which is 600 horsepower," said Peter Rawlinson, CEO & CTO of Lucid Motors.
Lucid also says their motor systems are about 17% more efficient than their closest competitor, though they don't specify just who that is.
"What really excites me is how we can use these technological breakthroughs to benefit more cost-effective, more energy-efficient cars in the future," said Rawlinson. "That can be used to achieve the same range as that competitor with a 17% smaller battery pack … It's akin to a 20% cost-savings in batteries, implementable today … Another way of looking at the 17% increase in efficiency is equivalent to a 17% net gain in battery energy."
Battery packaging has always been an advantage of electric vehicles, allowing for flat floors with lots of passenger room. Lucid has added a couple of interesting developments in this department too. First is that the underside of the battery is curved and acts as part of the rear diffuser, improving aerodynamics. Second is the use of footwells for the rear passenger, similar to the Porsche Taycan. Some electric sedans do not have much vertical leg room for rear passengers with their low roofs, seating position, and thick battery. Lucid built recesses into the shape of the battery, giving some of that space back to the rear passengers, which is just the beginning of the incredible attention Lucid has given to the interior design of the Air.
Lucid has chosen to go with all two-tone interior designs, offering an interior look unlike anything else out there.
"The front of the vehicle is meant to be sportier, typically we do that in darker colors," said Derek Jenkins, vice-president of design for Lucid Motors. "As you work your way to the back of the vehicle, this is meant to be a more relaxing environment and so those areas are always done in lighter, brighter colors to create this duality between the front and the back of the vehicle."
The different interiors available are themed on different natural areas of California as an homage to their home state. Santa Monica, Big Basin, Santa Cruz, Tahoe, and Mojave all appeared in the launch video, and interior color combinations are based on the lighting found in those places at different times of day. Lucid is also really playing up the high-quality fit and finish of the interior they are striving for.
"We are literally measuring the pitch of the stitch, the weight of the thread, the suppleness of the leather, how deep the logo is debossed into the metal, how it feels to run your hand along the wood, that it actually feels like wood," said Sue Magnusson, senior color, materials, and finish manager for Lucid Motors. "We're always looking at those little, minute details, things that people probably don't even really think about."
The rear seat will eventually be available as either a traditional bench or a two-seat executive layout, though that option is conspicuously absent from the online configurator right now. The Big Basin and Santa Cruz interiors featured in the launch video are also absent.
Lucid Air will come in four trim levels. The car will first be released in Spring 2021 with the Lucid Air Dream Edition for $169,000. The launch edition of the vehicle promises 1,080 horsepower and up to 503 miles of range.
It will be followed by the Air Grand Touring for $139,000. This is the longest-range version of the Air, achieving 517 miles, but it's less powerful with only 800 horsepower. Air Grand Touring should start delivering in Summer 2021
The mid-level is the Air Touring. This car comes down below six-digits, starting at $95,000 (before the Federal Income Tax Credit). Though full specs haven't been released for the Touring model, it presumably has a smaller battery than the Grand Touring and Dream Edition models. It has 620 horsepower and is expected to get 406 miles of range.
The base model Air is the one we know the least about. No range, performance, or power data is given. The only number we have is $80,000. The Air is expected to start below that number before the Federal Income Tax Credit. The picture we have of the base Air shows a solid, body-colored roof, which is a difference from the rest of the lineup's expansive glass canopies.
The Lucid Air will be built at the company's factory in Casa Grande, Arizona, which appears to be nearing completion. Their primary target for manufacturing is quality.
"You need quality in your processes, in your design, in your product, everything you do," said Peter Hocholdinger, vice-president of manufacturing for Lucid Motors. "So, we are starting the factory with a quality driven route. We will not hit numbers because we want to hit numbers – that doesn't make sense in a luxury segment. We will hit quality achievements, quality goals. Once we hit them, we can hit higher numbers. That is the path of how we can move forward."
Lucid vehicles will be sold through Lucid "Studios" and serviced in attached service centers. The company plans to open 20 such locations throughout North America in 2021.
With a compelling car, a factory, and a distribution plan, Lucid looks like it's ready to go – but Rawlinson wants to stay humble, at least until the first cars are delivered.
"I won't celebrate until we've got cars out of the factory in Arizona, into the hands of customers."