Ferrari plugs in, gets current with new SF90 Stradale supercar
Having dipped its toes into the sea of electrification with the mild hybrid Ferrari LaFerrari, the Italian automaker is wading in a little deeper with the new SF90 Stradale. The new hypercar features a plug-in hybrid powertrain producing more power than the LaFerrari. In fact, the SF90 Stradale will be Ferrari's most powerful production car to date.
The electric part of the powertrain is made up of a 7.9 kWh battery pack and three electric motors—two in the front and one in the rear. These motors make the car all-wheel drive and give it the ability to use regenerative braking. Ferrari has even named the rear motor "MGUK" (Motor Generator Unit, Kinetic) in reference to the Formula 1 hybrid tech it was derived from. Altogether, the electric components make about 217 horsepower. The rest of the SF90 Stradale's power comes from a 4.0 liter twin-turbo V8 engine—rumored to be related to the engine from the 488.
The total system power output is a staggering 986 horsepower.
Ferrari claims the car will sprint from 0–62 mph in 2.5 seconds, but with the field of cars capable of such mind-numbing acceleration expanding, that's a feat hardly worth noting. The SF90 Stradale's 0–124 mph time is where you can actually start to shake out which hypercar is faster, and Ferrari says the SF90 Stradale will hit that speed in a mere 6.7 seconds.
That's quicker than the Lamborghini Aventador, McLaren P1, and the Porsche 918 Spyder.
"Improved overall grip with improved power delivery from the electric motors at low speeds has significantly improved the SF90 Stradale's longitudinal acceleration, making it the new benchmark for standing starts," Ferrari said in a press release. "Even at high speeds in higher gears, the combined contribution of the electric motors in maximum traction conditions helps reduce ICE [internal combustion engine] response times, significantly improving longitudinal acceleration and thus performance."
It's been clear for years now that electric powertrains offer huge performance benefits. Ferrari proved they knew that when they built the LaFerrari. Now, they're pushing the tech even further with SF90 Stradale.
Plus, all this performance comes despite the fact that the hybrid tech in the car adds almost 600 pounds to the equation. Much like BMW built the i3 out of carbon fiber to reduce weight, Ferrari is using lighter (and stronger) carbon and aluminum alloys to offset that weight addition. The car weighs approximately 3,461 pounds—about 34 pounds lighter than the LaFerrari.
Low weight isn't just important to performance, though—it's crucial when trying to squeeze as many all-electric miles you can out of a lithium-ion battery. The SF90 Stradale's approximate 16-mile all-electric range falls short of most other plug-in hybrids on the market, but it's not like Ferrari is building this car for people to hypermile it.
Electric vehicle mode also limits the top speed to 84 mph. In order to accelerate from "fast" to "really freaking fast" you'll have to fire up that big Italian V8.
Unsurprisingly, the Ferrari is more performance than eco.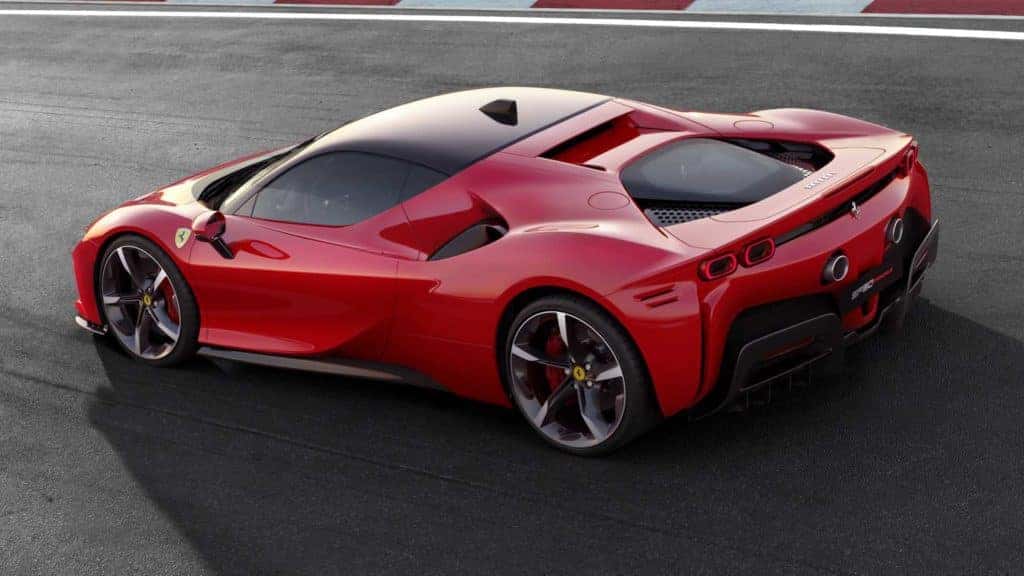 It still has some interesting electric features, though! The reverse gear is electric-only, so low-speed maneuvering is smooth and silent. Plus it has four drive modes, similar to many other plug-in hybrids on the market.
eDrive: All electric, all the time—for 16 miles, at least.
Hybrid: This is the default mode. The car's computer aims for efficiency here, turning the engine on and off, and adjusting power delivery accordingly.
Performance: This mode keeps the internal combustion engine on and maintains the battery's charge level, so the car's power is always on tap.
Qualify: This unlocks the maximum power from SF90 Stradale's electric motors. Ferrari says this mode favors performance over battery charging, so expect this to drain the battery under hard driving.
Though Ferrari has given these modes its own names, they do mirror what many other plug-in hybrids on the market have to offer; they all have an electric mode, and most of them have an "auto" mode that will switch between gas and electric while trying to maximize your mileage. Performance mode sounds like "hold" mode—though Ferrari's goal is clearly to have power available whenever the driver demands it, instead of keeping the battery in reserve for city driving.
Most plug-in hybrids don't have a maximum performance mode like Qualify, but the SF90 Stradale is not most plug-in hybrids.
The SF90 Stradale's specs would slot it in as Ferrari's new halo supercar—though Road and Track reports it will cost less than the LaFerrari did. Since these cars often serve as inspiration for development going forward, it wouldn't be surprising to see electric tech spread further throughout Ferrari's range.
Will there ever be an all-electric Ferrari? Only time will tell.