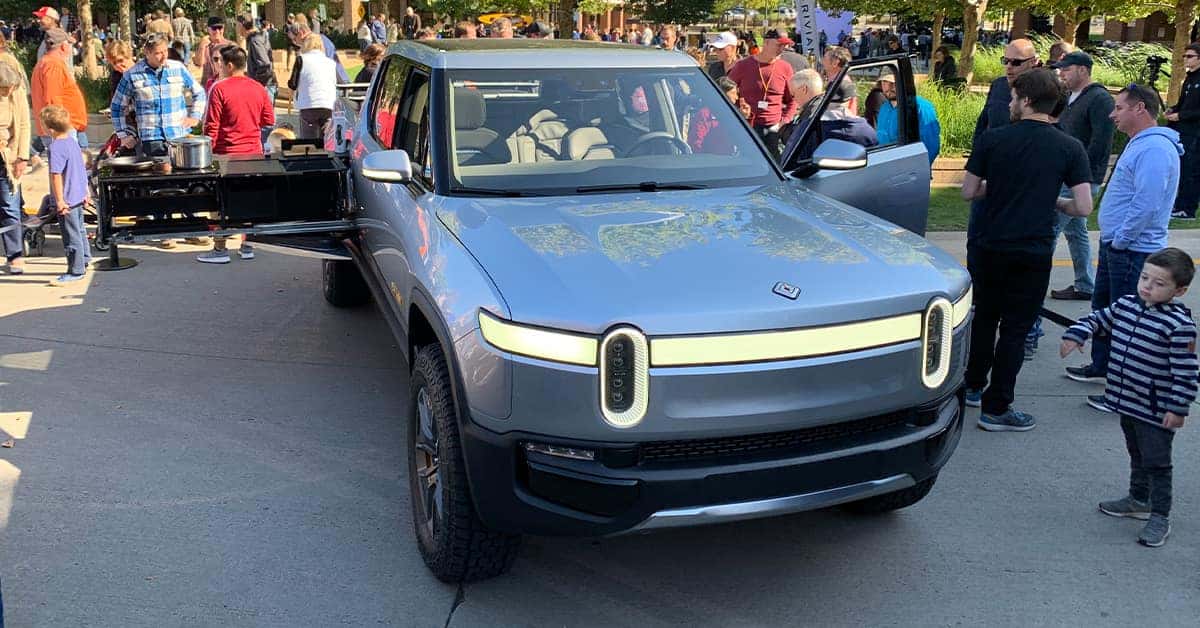 Rivian's Electric "Adventure Vehicles" are Beautiful Trucks with up to 400 Miles of Range
Watch out, Tesla—you won't be the youngest and hippest new automaker on the block for much longer.
Rivian Automotive has been slowly building the hype for its first electric "adventure vehicles," the R1S SUV and R1T truck, since they debuted at the Los Angeles Auto Show in late 2018.
Details and performance specs have been released, a few large investments have been received from Ford, Amazon, and Cox Automotive, and the automaker acquired the former Mitsubishi plant in Normal, Ill., to build its vehicles.
To make Rivian feel a little more at home in the midwestern town, the EV startup held an open house. Three of their pre-production vehicles were on display for people to see in person and get close to.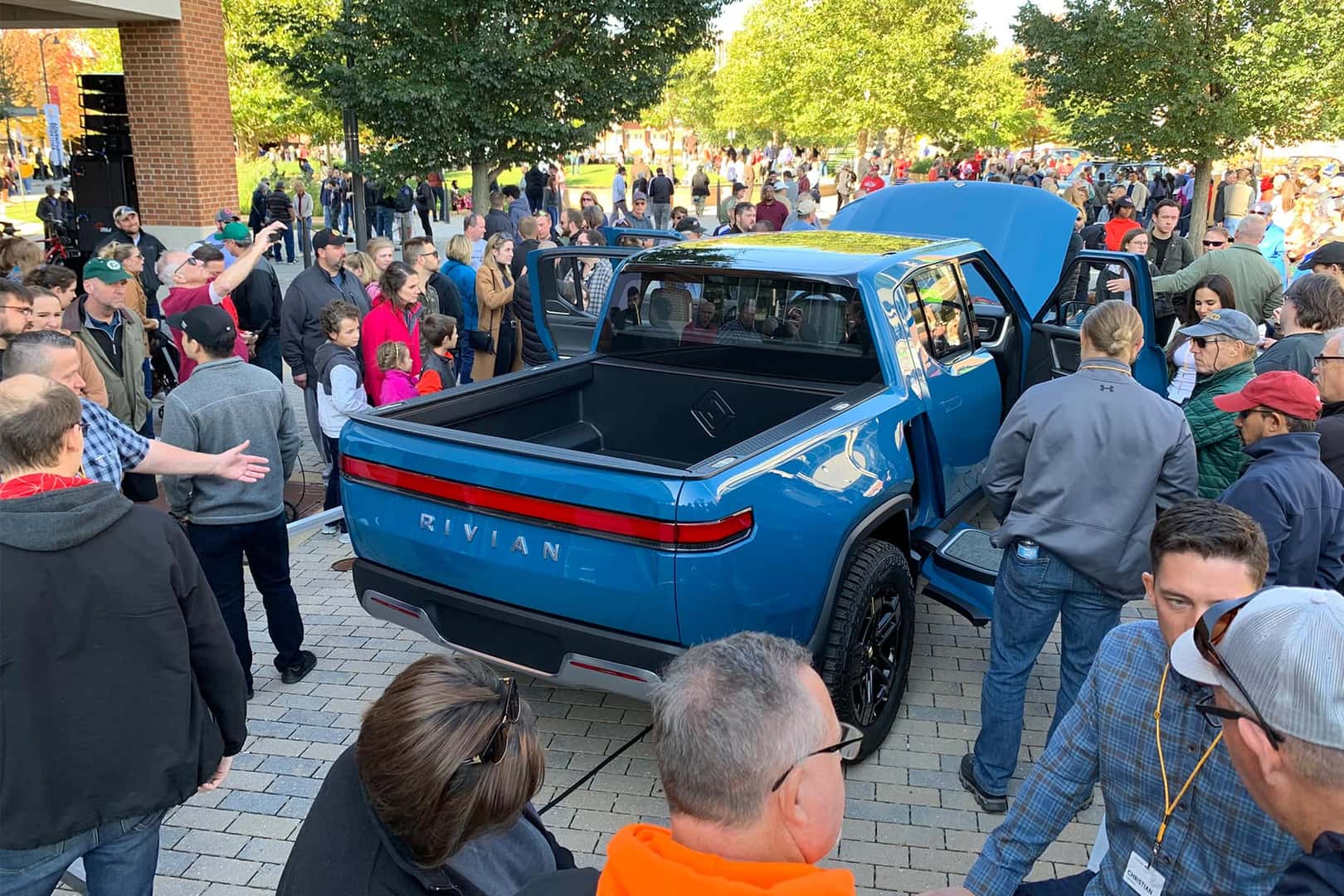 Both the R1S and R1T are beautiful vehicles with a smooth, rounded-box design that looks very modern. The standout design element is definitely the front fascia, with a sharp daytime running lamp that runs horizontally across the whole bumper, and unique vertical oval headlights.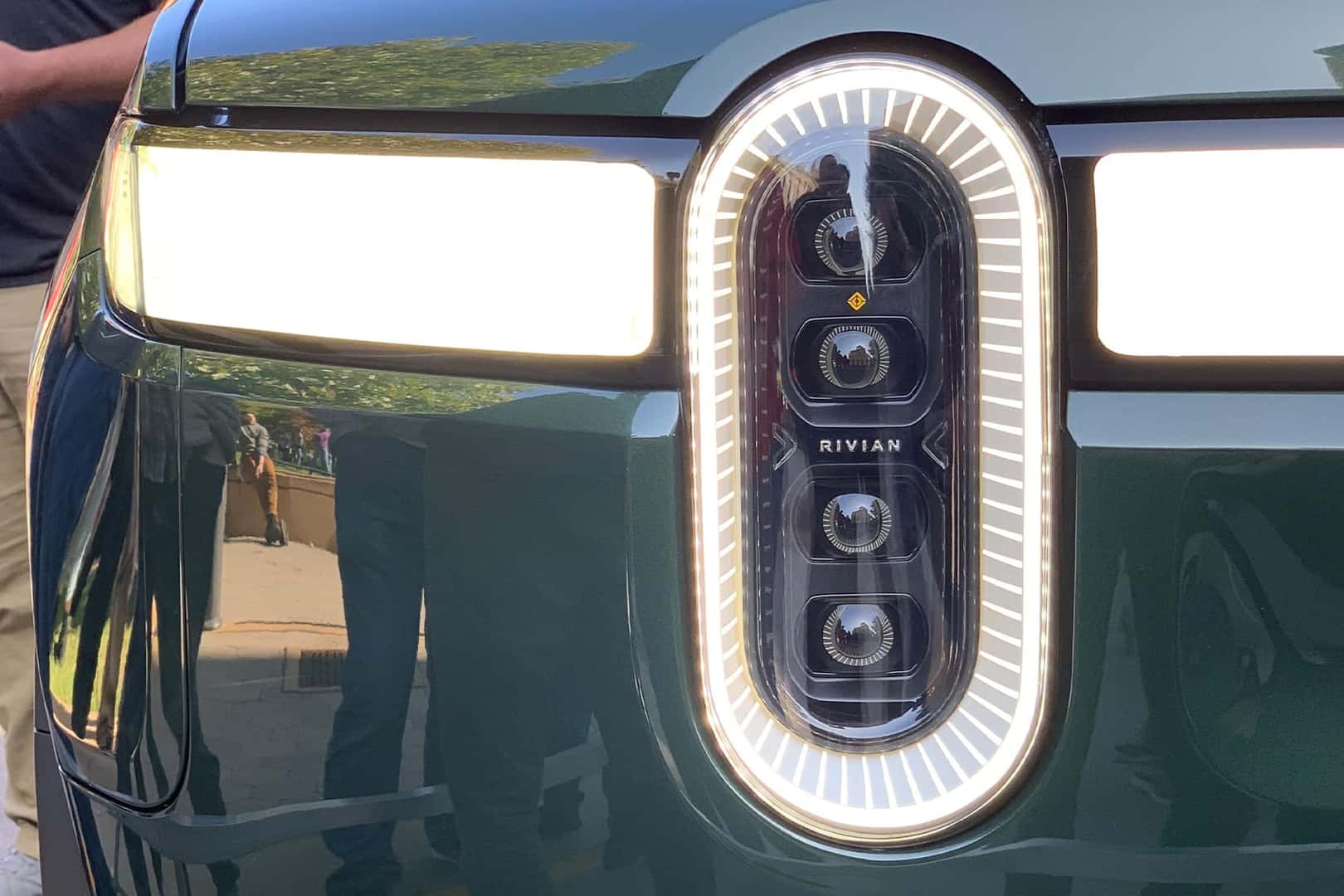 While guests were not allowed to get inside the vehicles, they did have their doors open, allowing a solid view of the interior. Again, it features a very modern design with clean, rounded lines on the dashboard and a dual-screen setup—one for the gauge cluster and the other for infotainment.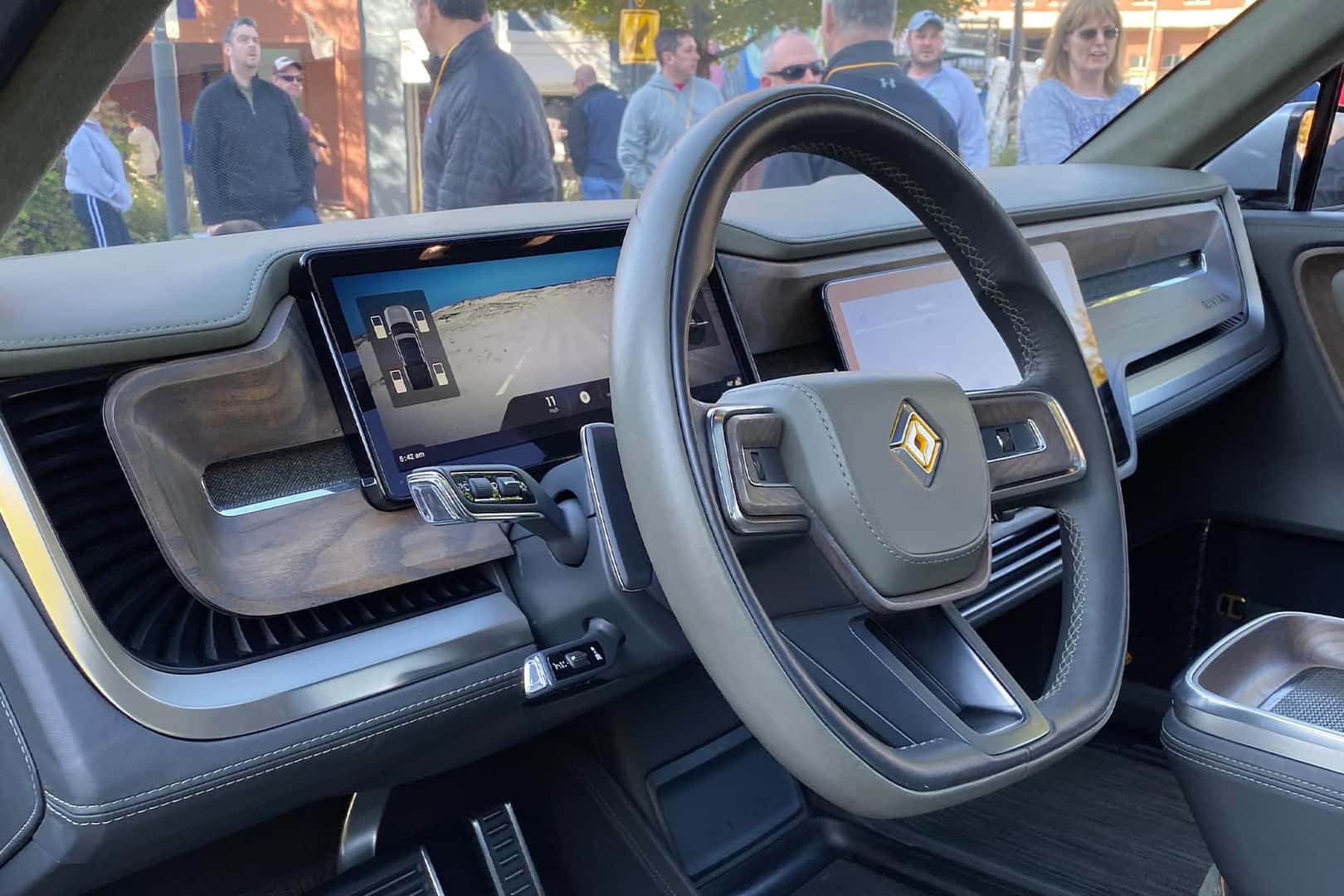 Other standout design elements include the clamshell hatchback on the R1S and the pass-through gear-tunnel on the R1T, which is a separate, enclosed compartment from the truck bed and passenger cabin. Rivian even had an inductive stovetop concept that could be stowed in the tunnel and pulled out for cooking in the wild.
There was also a display of Rivian's "skateboard" style platform, showing off the absolutely massive (and optional) 180 kWh lithium-ion battery pack its vehicles can be fitted with. It will be the largest battery pack available in a passenger EV yet—even bigger than the 120 kWh pack Bollinger plans on stuffing in its trucks.
"With that [battery pack] we get 400 miles of range, maybe a touch more than 400 when it comes out," said Patrick Hunt, strategy director for Rivian. "That commitment to packaging a very long-range battery pack also goes back to how seriously we take the brand we're building and the capability we're promising in these vehicles."
The two other batteries available will be 105 kWh and 135 kWh, yielding ranges of approximately 240 and 310 miles respectively.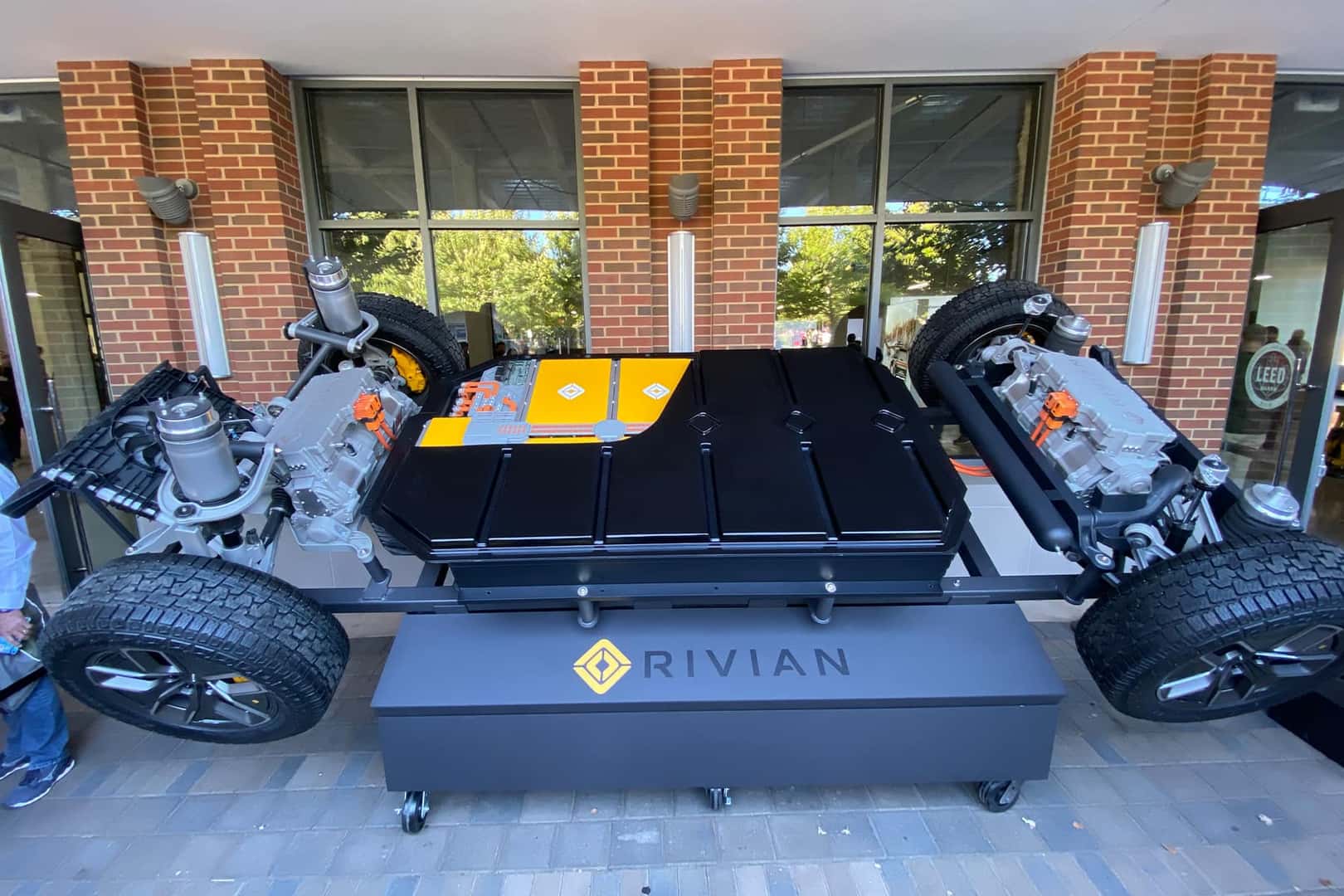 Impressive specifications carry over to every other part of the vehicle. The trucks feature four electric motors—one for each wheel—and the higher-trim vehicles will produce about 750 horsepower and 829 lb.-ft of torque.
Zero-to-60 should take about three seconds. While that's obviously supercar-fast, electric vehicles being ludicrously quick off-the-line has become fairly common. So, Rivian hopes to impress further with off-road performance.
"There's still a misconception that EVs are kind of a clean, precious, on-road thing you wouldn't load up to go anywhere and get dirty," Hunt said. "We think that's wrong—our electric adventure vehicles we're building are out to disprove that."
Both trucks feature all-wheel drive and adjustable air suspension that can be cranked up to more than 14 inches of ground clearance to allow drivers to be able to wade through more than three feet of water. The rear bumpers feature a Land Rover-esque upward swoop—hinting at their 30- to 34-degree departure angle.
Check out how Rivian's trucks compare to the Ford F-150 Raptor Crew Cab, Jeep Wrangler JL four-door, and Land Rover Defender 110 below.
The R1S and R1T are in good company, boasting the highest ride height and water fording depth (there's no engine to waterlog, after all!), and it has solid off-roading angles – better than the F-150 Raptor, not quite as capable as the four-door Wrangler or Defender 110.
The quad-motor all-wheel drive system should make for some interesting off-roading performance characteristics. While gasoline vehicles need transfer cases to appropriately distribute power to the wheels, Rivian's motors are located at the wheels they turn, and are not connected to each other. The car's computer should be able to calculate how much power each wheel needs to overcome the given terrain situation or obstacle, and each motor can respond on its own, individually.
Altogether the Rivian R1S and R1T are shaping up to be high-performance off-road vehicles wrapped up in an attractive package. They, like Tesla has done before them, show off some of the exciting design possibilities available to automakers designing EVs from the ground-up, rather than basing them on conventional automotive platforms.
The R1T and R1S will start at $69,000 and $72,500 respectively, though it's not clear how much higher-spec versions of the vehicles with larger batteries will cost.
Both cars are slated to enter production in 2020 for the 2021 model year, and Rivian is accepting $1,000 deposits for the vehicles now.