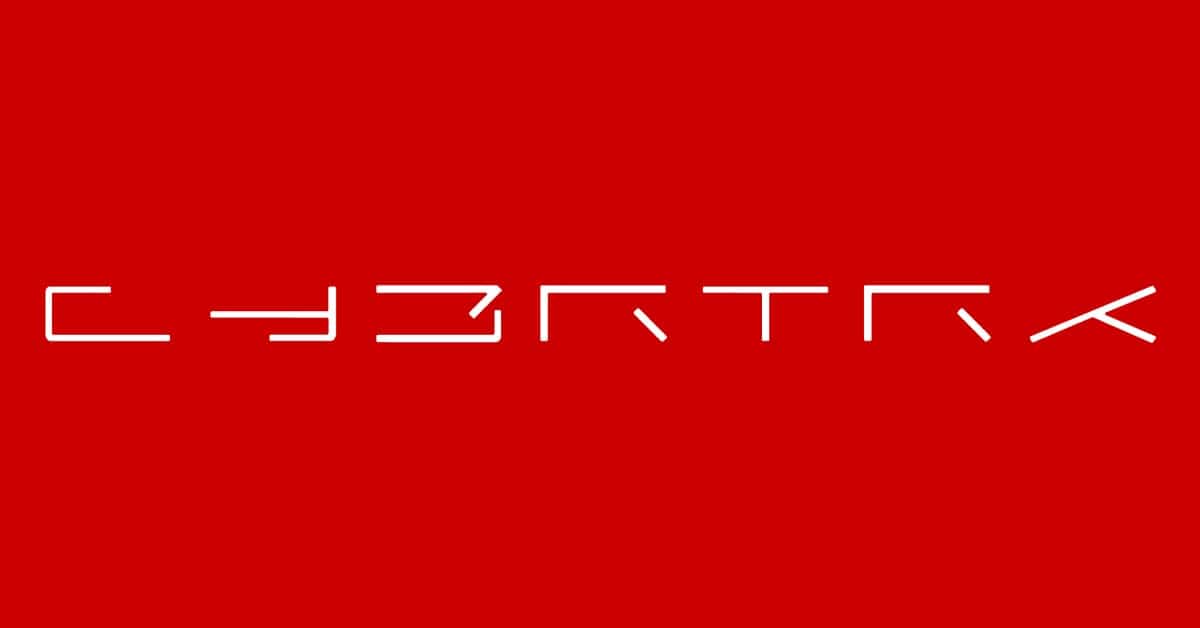 Tesla Trademarks CYBRTRK Logo, Reveal Can't Come Soon Enough.
"Cybertruck" has been an informal name for Tesla's much-hyped pickup truck for some time now thanks to Tesla CEO Elon Musk's tweets about the upcoming "cyberpunk-inspired" electric vehicle.
With trademarks filed earlier this month, that name looks to become official.
According to the United States Patent and Trademark Office, Tesla applied for trademarks for CYBERTRUCK, CYBRTRK, and the stylized logo pictured above on November 6, 2019.
While it retains the minimalist element from Tesla's traditional designs, it ditches the smooth rounded lines for something a little more jagged, more edgy, and harder on the eyes.
It's befitting a vehicle that Musk claims will be radically different from Tesla's other offerings.
Cybertruck doesn't look like anything I've seen bouncing around the Internet. It's closer to an armored personnel carrier from the future.

— Elon Musk (@elonmusk) October 14, 2019
While it's hard to imagine CYBRTRK actually looking like a futuristic armored personnel carrier, the teaser image Tesla included in the Model Y reveal in March has kept the Internet guessing. Much like the logo, it features straight, angular lines.
The teaser spawned a veritable blizzard of speculation and fan-renderings of what CYBRTRK might look like.
Some have ignored the teaser to imagine a pickup that combines Tesla's traditional styling elements with what popular mainstream pickup trucks look like today.
Others have found ways to incorporate the teaser.
Some have taken styling cues from a Tesla truck we've already seen, the Semi.
And others have gone all-in on the "armored personnel carrier" thing.
InsideEVs, an electric vehicle news source where some of my own writing has been published, has posted over two dozen different articles about Tesla CYBERTRUCK renderings since March.
That number can probably be doubled if you count all of the posts which use renderings as their featured image (which is actually fair, since you need to use some sort of related image in this world of web writing).
We've seen so many renderings that we've started seeing the CYBRTRK in wild objects – like this snow-packed Volkswagen e-Golf.

Things have gotten so out of hand that Jason Torchinsky of Jalopnik wrote a blog poking fun at InsideEVs for sharing one particularly boxy render.
This was a 3D model of a Ram truck that somebody deleted a bunch of polygons from the front. That's it.

This shouldn't count as a "render" of a Tesla truck. That's insane.

Look, here, I'm going to spend a maximum of ten minutes making a similar "render," but this time of a future Tesla SUV:
Only for InsideEVs to turn around and publish an article about Torchinsky's SUV rendering.
The Tesla CYBRTRCK reveal is set for November 21, 2019 in Los Angeles – less than a week away at press time.
It can't come fast enough though. The Internet needs to see what CYBRTRK looks like for real, before some sort of speculative-render apocalypse strikes.