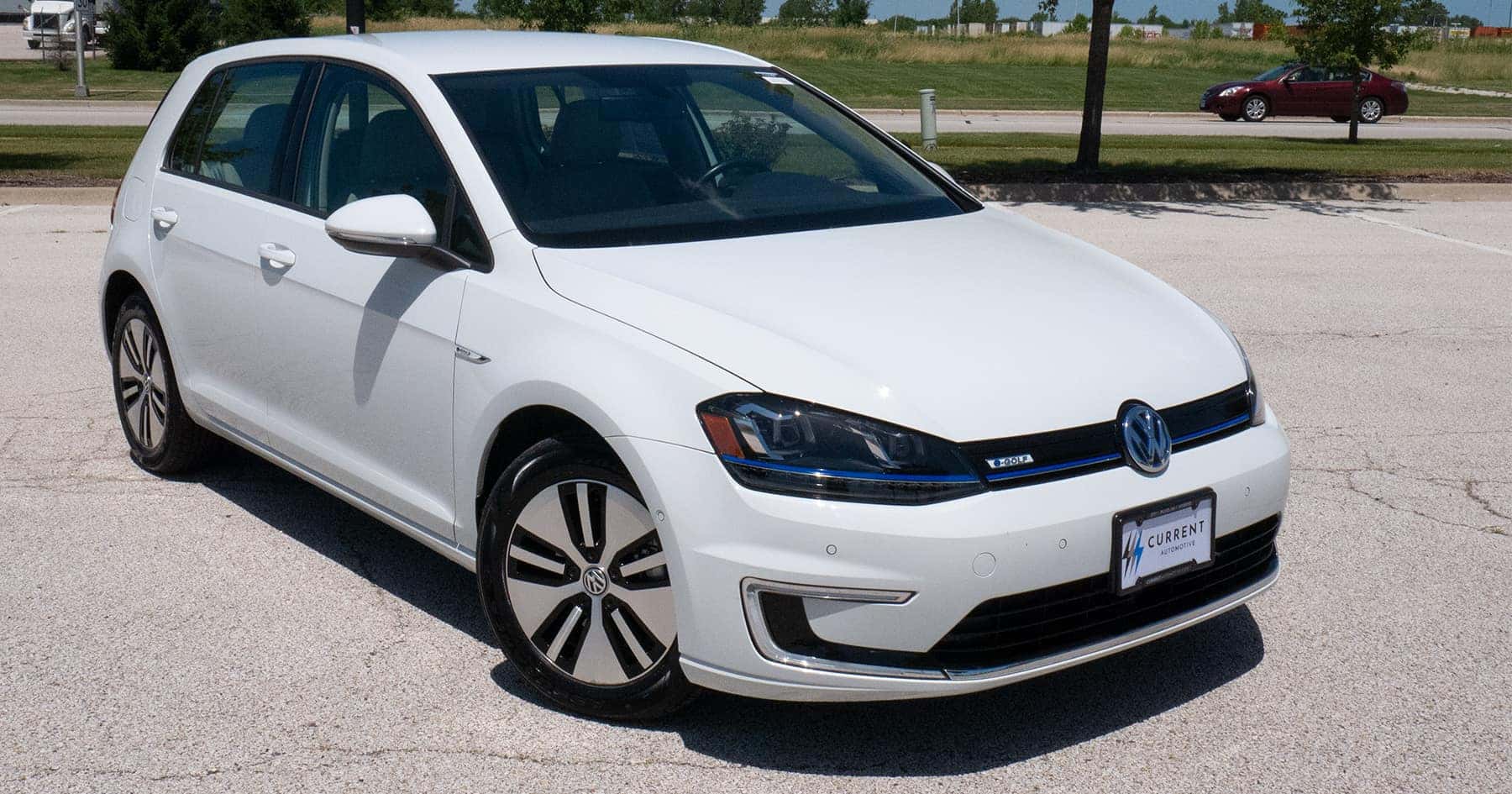 Volkswagen e-Golf Review – features, trims, specs, and buyer's guide
Snapshot: With a zippy acceleration and nimble handling, the Volkswagen e-Golf delivers a compelling drive befitting its storied lineage. While its range may be short of purebred electric competitors, it manages to tuck its batteries inside without the loss of cargo capacity.
It's still a Golf.
From a distance, the Volkswagen e-Golf is indistinguishable from its gas-powered brother. Even up close, the only visual cues are an "e-Golf" badge, subtle blue exterior trim, and the absence of a tailpipe.
The inconspicuous exterior underlines Volkswagen's mission to make the e-Golf look, feel, and drive like any other Golf – a noble goal given the nameplate's almost 50-year tradition of cars that combine driving joy with family-hauling utility. In setting out to do this, the German automaker created quite the challenge for itself. So many electrified vehicles sacrifice cargo capacity to fit batteries into a platform never designed to carry them.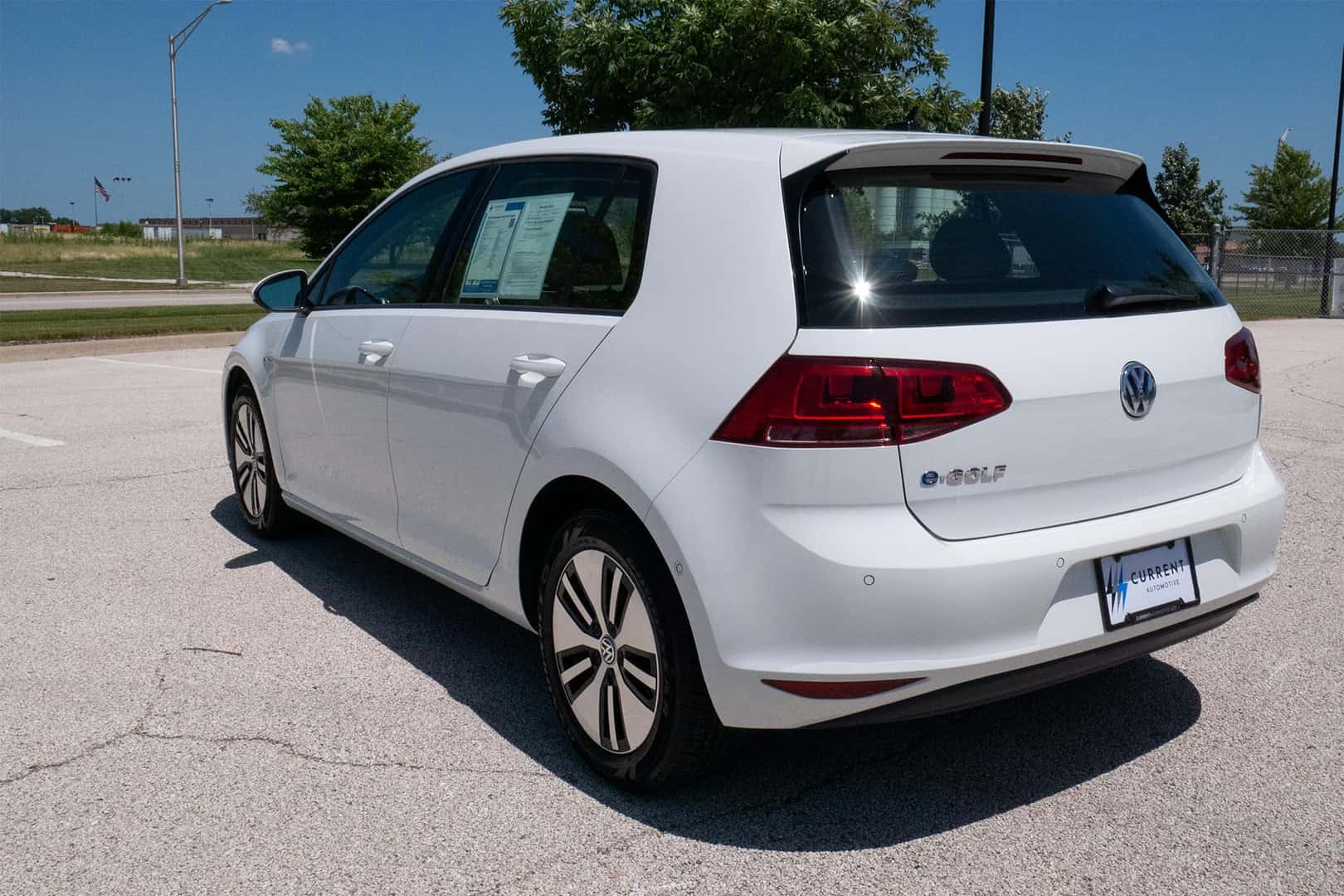 Thankfully, VW succeeded, and the e-Golf delivers on all fronts.
Its batteries are neatly packaged underneath the car's floor and rear seats, so there's no loss of passenger space or cargo room. The rear seats can comfortably fit two full-sized adults and the hatch can swallow up plenty of cargo. Drop the seats down, and you more than double your carrying capacity.
The interior isn't just spacious though, it's also nicely appointed, well-constructed, and sports some thoughtful storage touches. While many cars have exposed USB ports and phone slots for Apple CarPlay and Android Auto use, the e-Golf features a spacious compartment at the bottom of the center console. Plug your phone in, push it into the compartment, and close the cover for a clean look with no messy exposed wires.
It looks like a Golf, it feels like a Golf, it's as practical as a Golf, and it drives like a Golf with an electric powertrain. That is to say it drives fabulously.
Put your foot on the brake, push the obviously-reused "engine start" button, and you'll be greeted with silence, save for a few beeps to let you know the car is on. Shift into drive, and the car pulls away smoothly and silently. The EPA says 2015-2016 e-Golfs are good for 83 miles, while 2017 and later models (with their beefier batteries) can go 125 miles on a single charge.
Drivers get their choice of three driving modes and three regenerative braking levels to mix-and-match their desired level of energy efficiency. "Normal," leaves full power from the electric motor on tap, while "Eco," and "Eco+" reduce motor power, limit top speed, and restrict or turn off air conditioning and heating entirely in order to pull more miles out of the battery. Regen braking comes in "D1," which coasts the car like a traditional automatic would, "D2," or medium-regen as you lift off the accelerator, and "D3/B," high-regen that allows for almost entirely one-pedal driving. All the driver needs to do is step on the brake to bring the car to a complete stop once it's slowed down.
Admittedly, e-Golf isn't especially fast on paper. It's slower than diminutive electric car rivals Fiat 500e and Chevy Spark EV. Car and Driver pegged zero to 60 mph at 9.4 seconds on 2015 and 2016 models and 8.4 seconds for more powerful 2017 and later models, but the way an electric motor delivers power makes any electric car a hoot to drive.
The car is instantaneously responsive to the demands of your right foot. Dig into the pedal and the car surges forward. Dig too deep, too fast, and the tires are liable to squeal in protest of the torque. The e-Golf is especially zippy from zero to 30 mph, combine that with its nimble nature and you've got a car that is an absolute blast to drive in daily commuter traffic.
Handling is where the e-Golf really stands out too. Steering feel is easy but precise, and it delivers confidence-inspiring feedback to the driver. The car is eager to turn in, deftly responds to driver input, and will comfortably hold its line through a corner. While its electric nature discounts it from being a proper track car, it delivers on the promise of sporty driving. Expect temptation to take the winding road home.
Really, Volkswagen should be lauded for ensuring the e-Golf retains the agile feeling of a small, light car. Despite the fact that the lithium ion battery pack weighs in at 701 pounds, it still drives like a lightweight character plays in Mario Kart.
Simply put, the e-Golf is one of the best driving electric vehicles this side of a Tesla.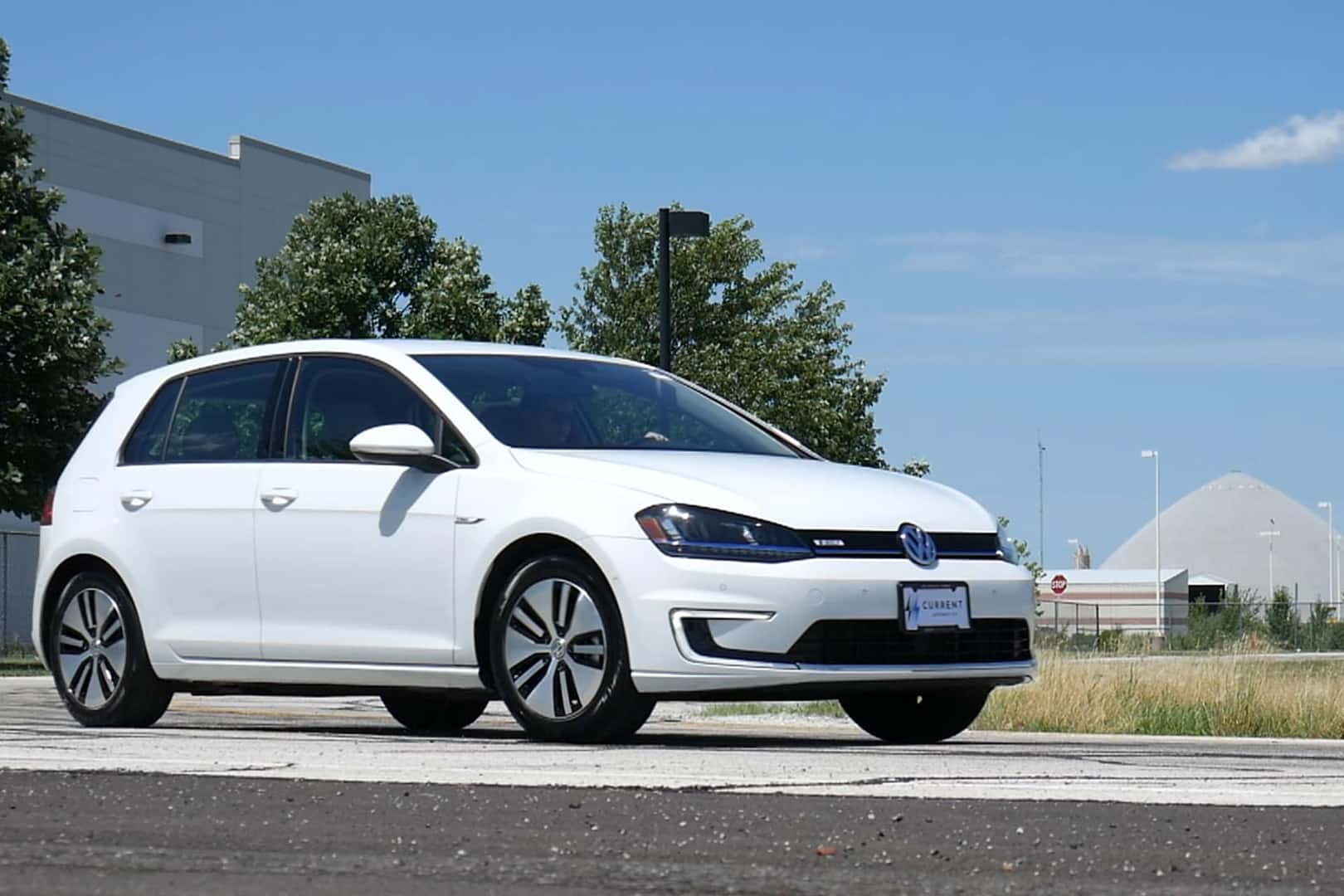 Features, specs, and trim levels over the years
Volkswagen has been making the e-Golf since the 2015 model year and has rolled out a few upgrades during that time. Two trims have been available: SE and SEL Premium. We'll detail them here.
2015-2016
All 2015 e-Golfs came in SEL Premium trim. Volkswagen added the base SE trim for the 2016 model year. All e-Golfs come well equipped, regardless of their trim.
The SE features high-quality, heated cloth seats and a 6.5" touchscreen with Apple CarPlay and Android Auto compatibility. Dual-zone automatic climate control is also standard. The DC Fast Charging Package doubled the power of the onboard charger from 3.6 kW to 7.2 kW and added DC fast charging capability for $1,675.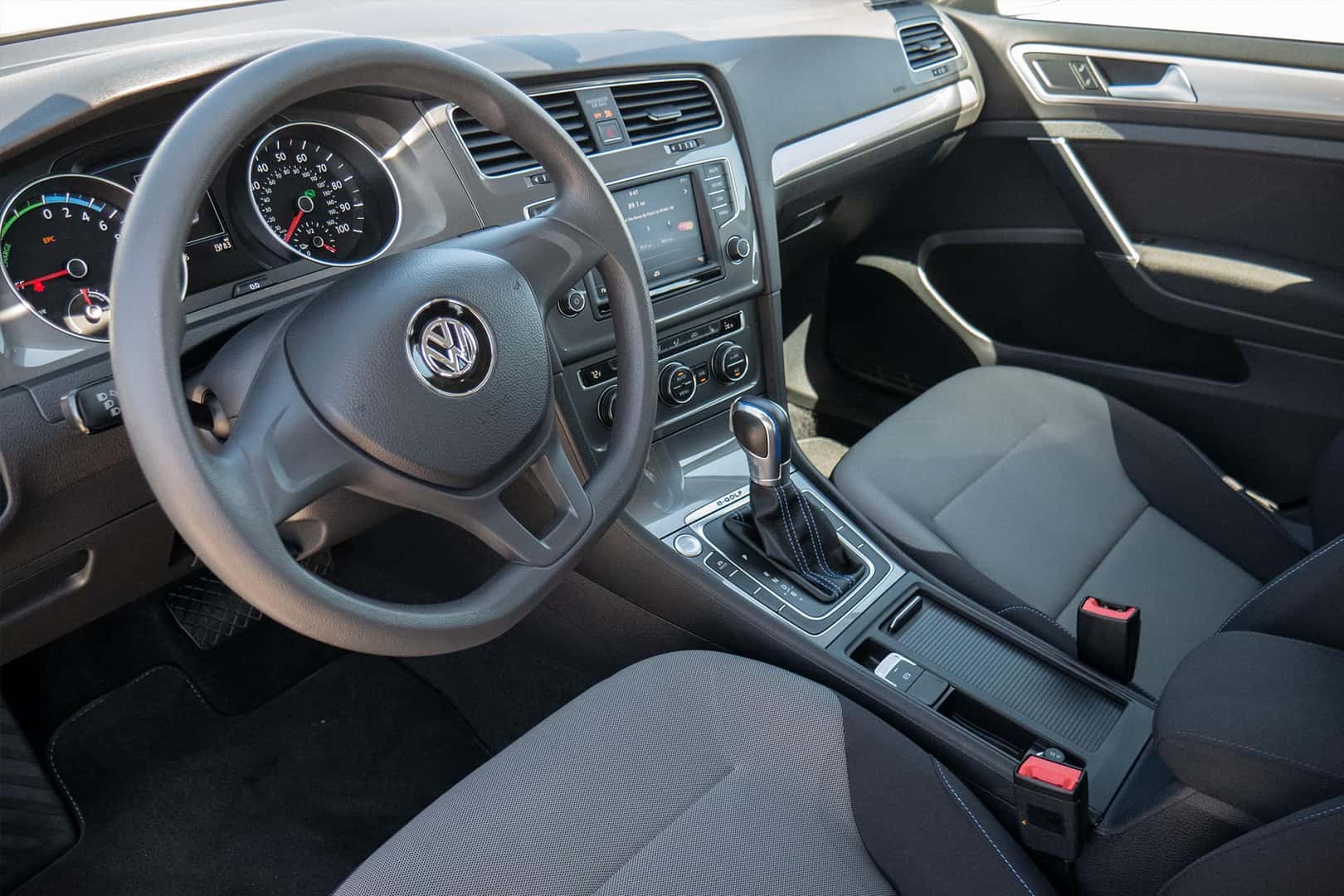 The SEL Premium trim comes with heated V-Tex Leatherette seats, a multifunction leather-wrapped steering wheel, an 8.8" touchscreen, and attractive LED headlights and daytime running lights. The SEL Premium trim also comes with a heat pump for more efficient heating in cold climates. The DC Fast Charging Package is standard, while the Driver Assistance Package offered forward collision warning and parking assist for $395.
2017-2019
The big change from 2016 to 2017 was an improved battery that could store more electricity without taking up any additional interior space. This improved the range from 83 miles to 125 miles. Volkswagen also gave the car a modest boost in power.
The SE trim receives more standard equipment. In 2017, it gets an 8" touchscreen, multifunction leather-wrapped steering wheel, and LED daytime running lights. It also received the 7.2-kilowatt onboard charger standard in 2017 for faster level 2 charging. In 2019, the SE trim gained DC fast charging as a standard feature and got access to the Driver's Assistance Package as an available option.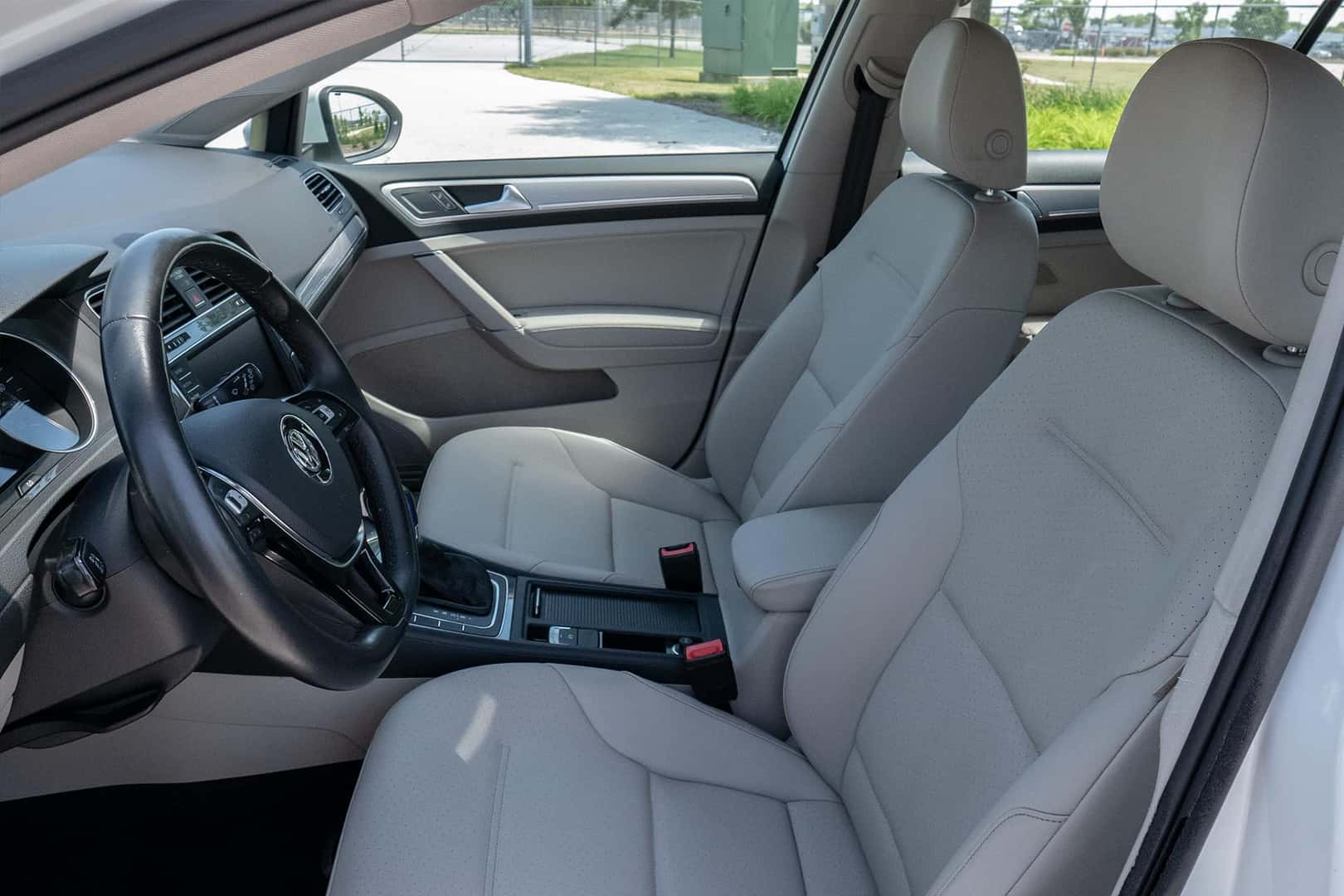 The Driver's Assistance Package, optional on the SEL Premium trim from 2017-2018, got a new suite of features in 2017 including: adaptive cruise control, forward collision warning, lane keep assist, blind spot monitoring, rear cross traffic alert, and automatic high-beams. It also comes with "Volkswagen Digital Cockpit," an impressive 12.3-inch digital gauge cluster. In 2018 the digital cockpit became standard for the SEL Premium trim, as does a 9.25" infotainment touchscreen. In 2019, the Driver's Assistance Package became standard for the SEL Premium trim.