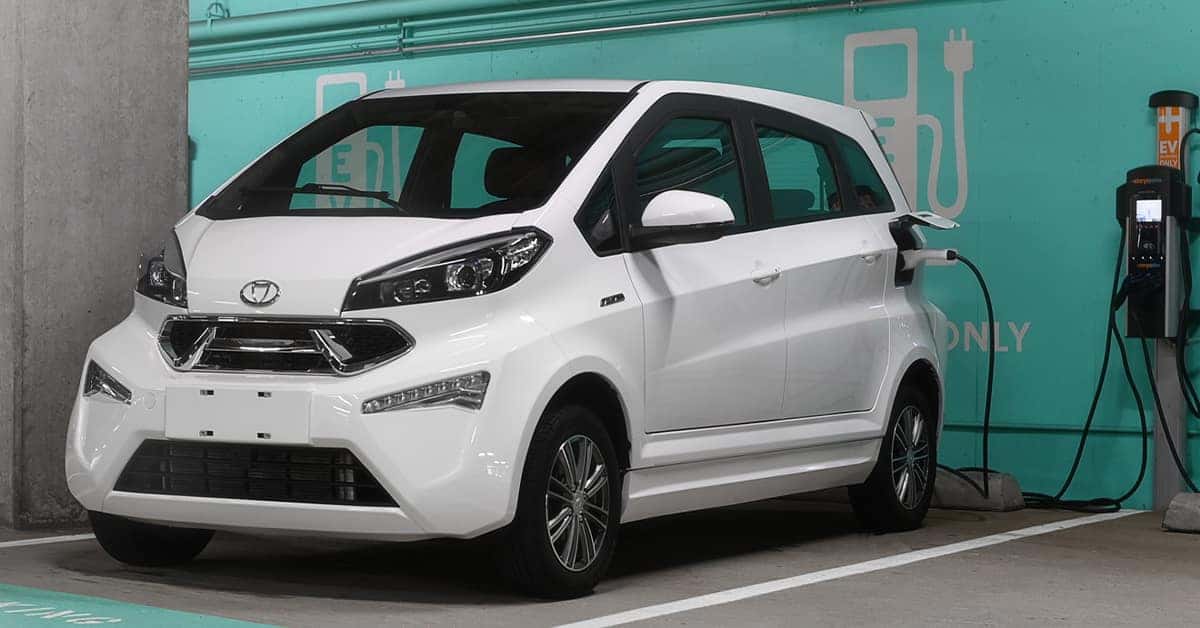 "We are going to have dealer bases in as many states as possible" – Kandi EVs coming to America.
This year has seen no shortage of electric vehicle startups, many with different approaches unveiled in 2020. Nikola wants to bring fuel cells to commercial trucking, Fisker is hoping for a second chance at the mainstream, and Lucid is aiming to smash all the records.
Kandi is a Chinese automaker taking yet another path: making new electric vehicles affordable and accessible to all.
As of August 2020, the least expensive new EV you can buy in America is the Mini Cooper SE, retailing at $30,750 before the federal tax credit. Kandi is entering the fray with two vehicles: The K23 starts at $29,999 before any incentives and the K27 starts at $19,999 before the Federal Income Tax Credit.
Factoring in the tax credit, the K27 is the single least expensive new vehicle you can purchase in the United States.
While the cars may be new to the United States, Kandi is an established business in China. The company was founded in 2013 to build and sell electric vehicles. It quickly launched an electric vehicle sharing service centered around giant Kandi Machines—car vending machines not unlike the ones Carvana uses in the United States.
Its entry into the United States market is being handled through its Texas-based subsidiary, SC Autosports, doing business as Kandi America.
Kandi America is taking orders with refundable $100 deposits on its website right now, and the company said it is looking to deliver its first vehicles to customers in Q4 of 2020. While details are still being worked out, future orders and deliveries should go through licensed Kandi dealerships.
"We are going to have dealer bases in as many states as possible," said Rachel Krevat, Client Relationship Director for Kandi America. "We already have several applications and territories that are going to be taken."
Dealerships will be required to have service capabilities, so customers will have a place to get repairs and warranty work done during the duration of the 5-year, 40,000-mile bumper-to-bumper warranty and 8-year, 62,000-mile battery warranty. Kandi also has a partnership with Wrench, a mobile mechanic service to provide mobile service as needed.
"If something happens on the road, [Wrench is there] to assist you if you can't get the vehicle to the dealership," Krevat said. "Wrench mechanics will come out and either correct it or help you get it to the dealership for further servicing."
Both vehicles will support Level 1 and Level 2 charging on the American SAE J1772 charging standard, and the automaker said both the K23 and K27 have been tested and approved for entry into the United States market by the NHTSA and the EPA. Though neither vehicle appears on the either of the government agencies' websites at time of August 2020.
Kandi K27
The Kandi K27 is a small four-seater electric hatchback clearly designed for short-range commuting.
It features a miniscule (in EV terms) 17.69 kilowatt-hour battery pack, which is even smaller than the 24-kWh pack equipped in the first Nissan Leaf to land in the United States.
Still, it manages to squeeze an impressive estimated 100-mile range from its small battery pack likely due to its small and efficient electric motor. The K27 produces about 60 horsepower and has a top speed of just 63 miles per hour. While that won't be comfortable for highway driving beyond brief jaunts, it is adequate for the urban and suburban commuting tens of millions of Americans do every day.
The use-case for a vehicle like this is almost exactly the same as any other short-range EV—use it to handle around-town commuting while saving tons of money on gas and maintenance. If the driver needs to go on a road trip, a second vehicle in the household or a rental vehicle can fill the need.
Inside, the Kandi has a simple interior with most controls handled by a horizontally-mounted 9-inch touchscreen.
When low, the K27's battery can be recharged in seven hours at 16 amps at 220/240 volts. This is a somewhat low speed for Level 2 charging, but it's still enough to fully charge the battery while you sleep, which is the ideal time to charge an EV.
While its specs may not be impressive, the price is. The K27 has special early pricing of just $17,499—meaning the first buyers will pay less than ten grand for this car before state incentives are even factored in.
Kandi K23
The Kandi K23 is also a small four-seater electric hatchback, but it's a little bigger, a little more powerful, and offers almost twice the range of the K27.
It features a 41.4 kWh Lithium-ion battery pack good for an estimated 188 miles of range and its 66 horsepower electric motor is capable of a slightly more highway-friendly 70 miles per hour.
While its 188 miles of range might make you think the vehicle would be good for road trips, it unfortunately does not come with DC Fast Charging and is instead limited to Level 2 charging at 32 amps. This will fully recharge the K23 in just 7.5 hours, which is enough for overnight charging, but doesn't cut it for long-distance driving.
The use-case for the K23 also falls under short-range commuting, though the additional range of the K23 makes it viable for longer drives. We always recommend someone get an electric vehicle with at least twice as much range of the length of the daily commute—that way even on the hottest or coldest of days, the vehicle can get you to and from work with enough range in reserve to make a detour along the way.
The long range of the K23 makes it an option for people who do more than 90 miles of driving every day, and it offers its range at a much lower price point than other low- to mid-range EVs on the market. The K23 starts at $29,999 before the Federal Income Tax Credit and also has special early pricing of just $27,499.
Compare that to the Mini Cooper SE, which is about $100 cheaper but only gets 110 miles of range, or the Nissan Leaf, which gets a comparable 151 miles of range but stickers at $1,600 higher and can be optioned to be significantly more expensive than that.
More Kandi to come?
With plans for a dealership network, mobile service partnerships, and the effort taken to prepare the K23 and K27 for American charging and crash safety standards, Kandi appears to be a serious bid to launch a new brand of electric vehicles in the United States. There are even dreams of more to come.
"We don't know the timeline, but we are hoping to bring more models in the future," Krevat said.