Current Automotive—One Year Later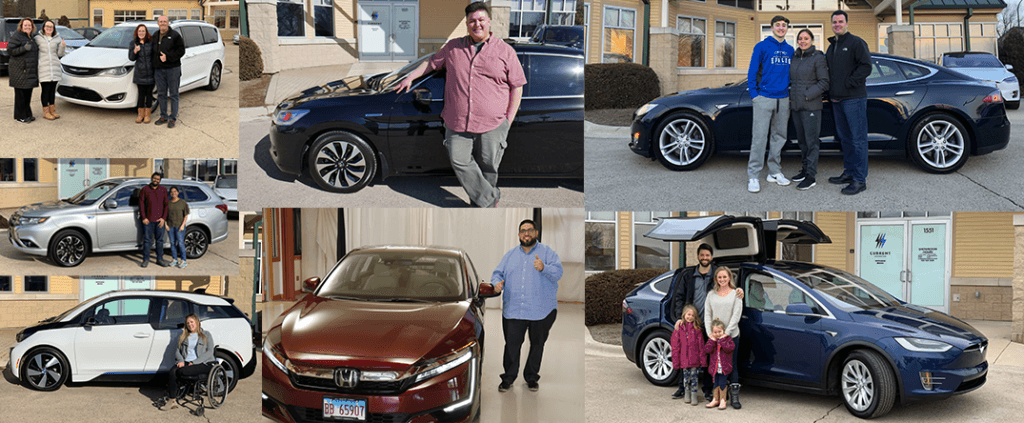 Current Automotive—One Year Later
July 3, 2019 marks one year since we launched Current Automotive, and we're thankful to have found great success in the first 12 months of operation. The life of any startup is uncertain, so we're happy to say that in the last six months we have doubled our sales, doubled the size of our team, and are expanding again. Growth is good!
We've also learned a thing or two (or twelve) over the last year. We'd like to share few of our lessons with you now.
The EV-curious crave EV education
Tesla's incredible growth over the last decade has made the brand a household name and brought electric vehicle technology to the forefront of the auto industry.
The American public has some awareness of electric cars on the road—but that's about it.
After spending so much time surrounded by electric vehicle enthusiasts at Tesla, it was easy to forget that there is very little "common knowledge" among most people when it comes to EVs.
Most people don't know that it's best to charge an electric vehicle overnight, or how to have charging installed at home. They don't know how much it costs to charge an electric vehicle, and just how much they could save by eliminating trips to the gas station. They don't know how to find fast charging stations, or how long it takes to get back on the road.
If someone is interested in switching to an electric vehicle, they need to be educated on how to live with one and deserve to have any other questions or concerns they have answered in full.
Besides homes, cars are the largest purchases most people make. If they aren't educated and confident about what they're buying, they're likely to stick with what they're comfortable with—fossil fuels.
When electric vehicles make up a tiny portion of any traditional dealer's inventory, where is the incentive to have well-educated salespeople ready to field those questions?
In 2017, Sierra Club published a report called Rev Up Electric Vehicles: Multi State Study of the Electric Vehicle Shopping Experience. The report included testimonials from people who had sour experiences with traditional dealers when attempting to buy an electric vehicle. Such experiences are unfortunately common—even in California, where EVs are more popular than anywhere else in the United States.
"I couldn't do a test drive because the key was lost," according to one person who visited a Nissan dealership in California. "I was encouraged to purchase a non-electric vehicle instead."
Another respondent who visited a Mercedes dealer in the same state said there were only two EVs on the lot, and neither were charged with sufficient power for a test drive.
Someone who visited a California Volkswagen dealership shared that "the salesperson admitted he did not know too much about EVs. He said he had not received EV training."
While there were people who had positive experiences, there are far too many negative ones—there have surely been prospective electric vehicle buyers who were swayed back to gas.
This is where we come in. Our nearly two decades of combined experience at Tesla gives us the expertise and knowledge necessary to field these questions. Plus, our purely pre-owned plug-in inventory allows customers to compare different electric options all in one place. They're more likely to find the perfect car for them and there's no need to waste time visiting different dealerships to compare the solitary electric models they have on their lots.
Accessibility is the issue, not demand
We've reached a point in time where most automakers have at least one electric vehicle on offer and are announcing new ones at every major auto show. Unfortunately, far too many exciting news stories come with a disappointing footnote for electric vehicle fans in much of the United States: the cars will only be available in select markets.
In the U.S., "select markets" when referring to electric vehicle sales almost exclusively means "ZEV States"—states with a mandate for zero-emission vehicle (ZEV) sales.
The point here is not to disparage the ZEV program—any policy that successfully encourages the adoption of sustainable transportation is a big win for electric vehicles and the environment. It's just that the placement of the ZEV states leaves a lot to be desired from an EV-adoption standpoint.
As of 2019, just 10 states participate in the ZEV program: California, Connecticut, Oregon, Maine, Maryland, Massachusetts, New Jersey, New York, Rhode Island, and Vermont. These states are all clustered on the east or west coast.
Most automakers (besides Chevy, Tesla, and BMW) are not willing to sell their new electric vehicles anywhere besides ZEV states.
To make matters worse, Tesla is unable to open stores or galleries in more than 10 U.S. states due to regulations on manufacturer-direct sales.
The result? Vast swathes of the United States make up an electric vehicle desert: it's almost impossible to buy them new and highly improbable to find them used.
That's a shame, since all modern electric vehicles—not just Teslas—are incredibly compelling cars.
Even if they're based on a conventional gas car platform, cars like the Fiat 500e, Volkswagen e-Golf, and Kia Soul EV are all great drives that offer all the benefits of an electric powertrain: buttery smooth power delivery, near-silent driving, and shocking off-the-line performance.
Despite the fact that they have less range than most Teslas, we've learned that these cars are quite popular.
We've shipped electric vehicles of all types all over the country. In just one year of operation we've delivered cars to 34 states. If that doesn't prove there's demand for electric vehicles all over the U.S., we don't know what will!
Electric is Affordable
While Tesla's presence is a driving force of electric car popularity, their status as a premium brand has helped create the idea that electric cars are inherently expensive.
Electric vehicles are indeed pricey when they're new. But massive research and development costs combined with low production volume means that a lot of these cars cause their manufacturers to lose money when they're sold new.
However, for non-Tesla vehicles, the inflated price of electric vehicle technology does not necessarily match the value of the car its being sold in. An electric Fiat 500e is still a Fiat 500. When gas-burning Fiat 500s are selling for $17,000, you'll be hard pressed to find someone who would pay that much for a used Fiat 500e—despite the fact that its MSRP is about $32,000.
Government and manufacturer incentives also bring down the purchase price (and therefore value) of the cars. With the $7,500 federal tax credit, that Fiat 500e looks like it's only worth about $24,500 when it's new.
The result? Lots of lightly-used electric vehicles can be had for less than $15,000. Hundreds or even thousands of dollars available in potential annual fuel savings sweeten the deal for budget buyers.
Nobody needs to wait if they want to go electric today—great options are available at any price.
It all comes together
It really feels like we've struck a nerve by making high quality electric vehicles available at good prices, and by offering the education and support necessary to help buyers make the decision that's best for them.
People are happy to be switching to electric for a multitude of reasons: they prefer the smoothness of the drive, they like the performance, they don't want to spend money on gas, or they want to help the environment.
Some of our customers are like Nick. He became an EV enthusiast after driving a Tesla. Being a Wisconsin resident, he didn't have local options to get an electric drive but found us online. He came down to check out a Fiat 500e and drove it home the same day.
Other customers have been like Tony. Tony was interested in and attracted to electric vehicles for the environmental and fuel savings benefits but didn't know anything about the process of owning an EV. We walked him through the concept of nightly charging, explained how to get charging set up at home, and prepared him for reduced range caused by cold weather conditions.
He felt confident an 83-mile Volkswagen e-Golf would fit his lifestyle and drove it home, happy to be emissions-free.
Others still have been like Robert. He's a Tesla fan who decided he wanted to move from a Model X to a Model 3 Performance. Despite the fact that he lives in New Jersey, our delivery-focused business made it possible for us to take his Model X as a trade-in thousands of miles away. He flew out to take delivery of his car in person (can't blame him for wanting to take a road trip home!) and stopped to say a few words on camera for us.
What happens to cars when they get here?
We've been humbled by the positive response we've received and the kind words our customers have given us. Positive reviews, thank you notes, referrals, people taking a not-insignificant chunk of time out of their days to come back and give us a testimonial interview—these things let us know we're doing something right.
Thanks to our customers and followers for the support over the last year. Without you, this wouldn't have been possible, and we're truly thankful.
Here's hoping we have even more success to report on our second birthday!