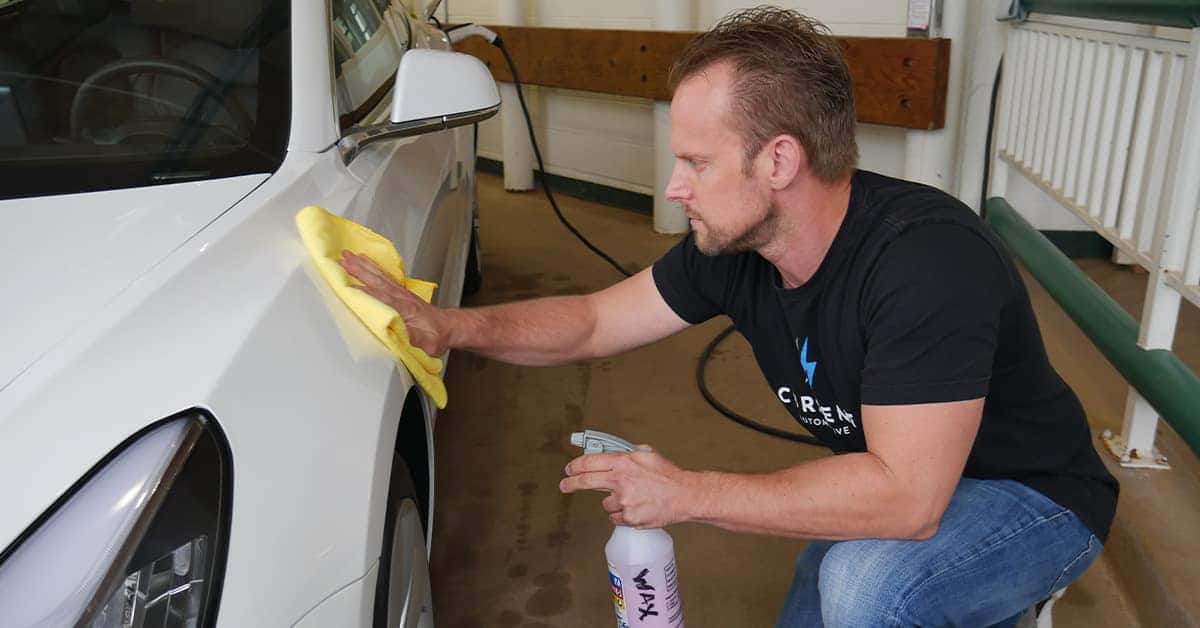 How do we prepare our EVs for you?
Just because you're looking for a used car doesn't mean your car should feel used.
We are committed to offering high-quality pre-owned electric vehicles at great prices, and that means ensuring each vehicle is in tip-top shape before sale. Not all vehicles can be in like-new condition—we're not miracle workers—but you can expect each vehicle we sell to be clean inside and out, free of major cosmetic damage, and minimal visible wear-and-tear commensurate with vehicle age.
Reputation Matters
Our process starts with inventory selection. We do not bring in vehicles that have been in accidents or have significant interior or exterior damage. You don't have to take us at our word on this, though—we'll give you the CarFax to prove it. While many consumers are familiar with CarFax and the vehicle history reports it provides for cars and trucks in North America, the company also offers retailers helpful tools to manage additional issues like open recalls. If we come across an open recall on a vehicle we take in, we make sure the issues are addressed as a convenience to the car's next owner so they have one less thing to worry about.
Customer satisfaction and our reputation for providing it are our biggest priorities, so beyond making sure the cars we buy have clean histories, we also put all of our vehicles through a thorough inspection as soon as we get them. Most cars we're selling are relatively new, so problems are rare, but there are occasionally items that need addressing. If tires have less than 5/32" tread, the car gets new tires. If the brakes are worn, it gets new brakes. If the air conditioning doesn't work, it gets fixed. If a door handle is broken, if the MCU isn't turning on, if the suspension is making a noise… You get the idea.
Bumps and Bruises Can Be Healed
Nearly every car on the road has some sort of visual blemish. From the moment a new vehicle is driven off the lot, it is subject to all sorts of dangers, most notably road debris and driver error. Drive any car long enough, and rock chips will begin appearing on the front bumper and hood. The dreaded runaway shopping cart threatens door dings. Many drivers inadvertently give their wheels some curb rash, or otherwise suffer some walking-speed collisions. It's okay—it happens.
We put in the time to recondition all of our vehicles, so many minor visual blemishes are removed. We refinish curbed wheels, we remove dents and dings where we're able, and we buff out light scratches or scuffs. Windshields with chipped or cracked glass (and/or roofs, in the case of Tesla) are replaced or repaired. Our goal is to improve the car as much as possible while leaving it as original as possible.
Sometimes a small ding, scuff, or scratch is in a location that a fix would require significant repainting, Bondo filler, or panel replacement. In these cases, we prefer to allow the blemish to remain. Panel replacement and repainting risks non-matching paint, and Bondo repairs can begin to show after a few years. In these cases, leaving the vehicle with a small blemish is the right and necessary decision.
Plus, some repainting work isn't cost-effective for us or our customers. Rock chips are essentially unavoidable and they're usually very small. Repainting a surface is expensive and, like anything else, warrants a cost/benefit analysis.
Two practical examples include a Model 3 that suffered a really nasty cracked roof, and a Volkswagen e-Golf that had a few dings and scuffs.
The Model 3 pictured above had a perfectly intact roof when we bought it, but something went awry during transport. Thankfully, all vehicles are insured while they are being transported both to our HQ and to the home of their new owners. Since the glass roof is a Tesla-specific part, we sent the car to Tesla service to have factory replacement glass installed. Now, you wouldn't know the difference.
The Volkswagen e-Golf that we took in had several spots that needed attention: scuffs on the bumper, and multiple dings on panels. Thankfully, we could address almost all of these spots with paintless dent repair, buffing, and retouching. Unfortunately, there are two spots that we couldn't clean up.
First is a ding on the right rear quarter panel, shown above. The ding is perfectly situated along a raised edge of the body panel, making it impossible to pull it back into line. The second is a slightly bent piece on the front left corner of the bumper. It can't be bent back into shape any more than it is—a full repair would require a new bumper, which isn't cost-effective for such a small blemish.
Overall, the vehicle is in much better condition than it was when we purchased it, with two blemishes so small most people wouldn't notice unless they were pointed out.
Beyond cleaning up visual imperfections, we detail our cars inside and outside. They should look and feel as clean as they did when they were new, so their next owners feel like they are getting a fresh vehicle. Oh, and since we only sell electric vehicles, we'll be sure they're charged and ready roll whether you're taking delivery at our store or having it shipped anywhere in the continental U.S.
Of course, pre-owned shoppers care about more than just appearance. They want to know the car they're buying is in good mechanical shape, has tires with lots of life left, and won't spontaneously combust on their way home.
Ultimately, some people want to purchase a vehicle that's in perfect, brand-new condition. If that's the case for you, then buying pre-owned might not be the right route—and that's OK! Everyone has different priorities when car shopping: some people want a low price, others want a specific interior or exterior color, and some want to know their vehicle is perfect and untouched.
It's our mission to help people switch to sustainable transportation, and a big part of that is carrying electric vehicles that people actively want to drive. That means being selective about the vehicles we bring in, taking care of each one we put up for sale, and ensuring each car feels like new to its next owner.