Make your next car electric—and buy it online.
The era of e-commerce is here to stay, but the notoriously traditional automotive industry has been terribly slow to jump on board. People want to be able to pick their product online, buy it with one click, and have it show up at their doorstep as soon as physically possible.
When someone needs to buy a car, though, it's often a hassle-filled daylong experience with lots of waiting around, even if the customer knows exactly what car they want to buy when they walk into a showroom.
To be fair, that's not entirely the fault of dealerships. Aside from homes, cars are the largest purchases most people make, and many people finance in order to do so. Large transactions with lending involved means there's a lot of paperwork that has to be generated and signed by law—laws that demand these forms be signed in person with ink, not online with pixels.
However, auto retailers can and should do more to streamline this process, making it more transparent, hassle-free, faster, and easier.
That's what we're doing here at Current Automotive. Beyond helping people find electric vehicles they will love, we want to make the buying experience as fast, easy, and painless as possible. We believe we can do that by embracing e-commerce.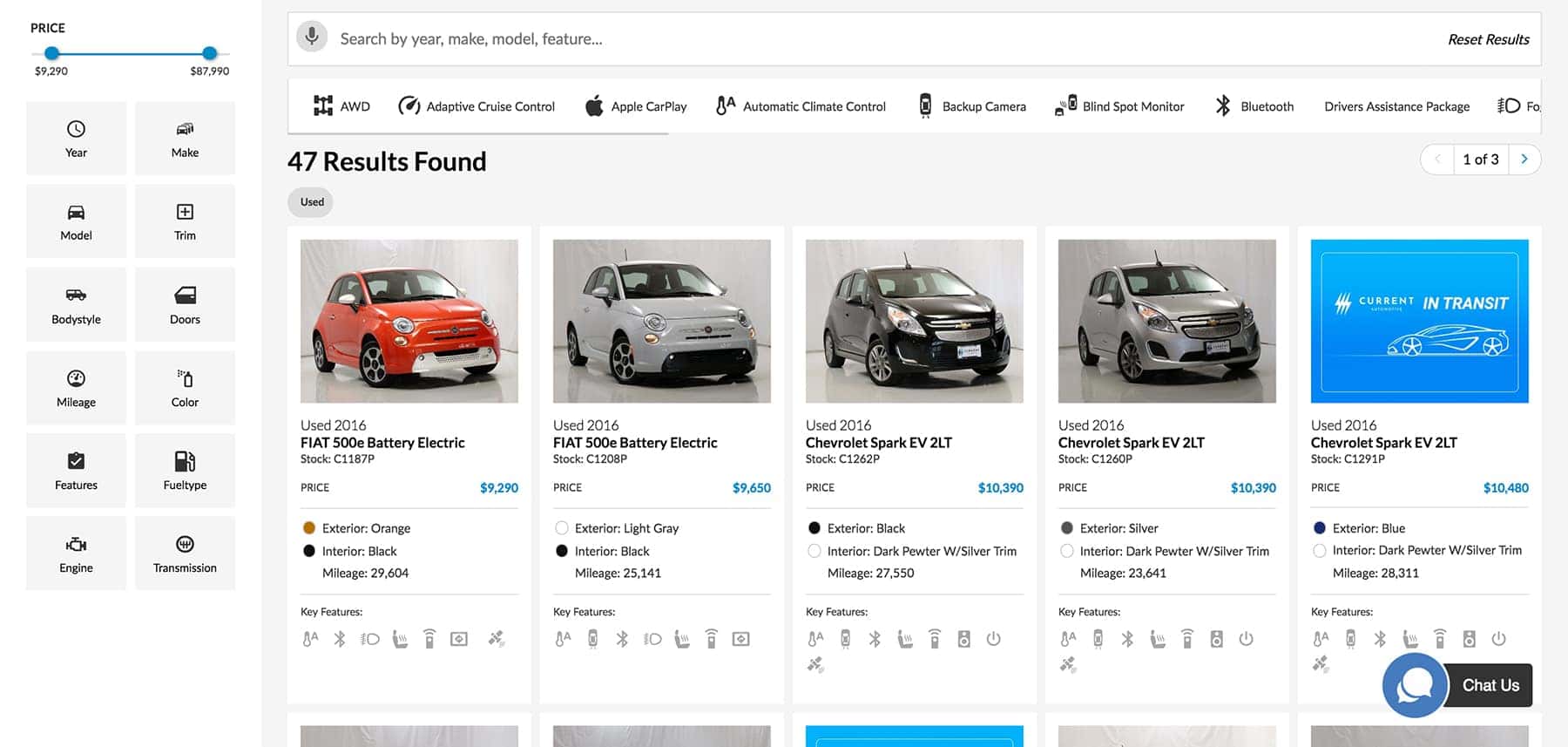 Find your car from the comfort of your home
However you found your way to our website, it all starts here. Check out what cars we have available on our inventory page, view high-definition photos, read the descriptions to learn each vehicle's story and what each EV has to offer.
If that's enough for you to make a decision, great! You can click the "Start My Purchase" button to continue.
If you have any questions about specific cars on our lot, electric vehicles in general, how to charge them, or just want to say hello, you can give us a phone call or chat with us through our online chat tool.
However you reach us, you will be connected with one of the living, breathing human team members of Current Automotive. We're happy to give you any information you may need. We understand many of our customers are looking at their first electric vehicle and that there's a lot to learn before someone gets comfortable. We believe in educating first.
We don't have a confusing phone maze, and we haven't outsourced online chat. While this means we aren't available 24/7, we'd rather give great information and a great customer experience when we can rather than sloppy information and a frustrating experience all the time. If we're not around, you can leave a message and we will get back to you.
If you'd like to take a closer look at the car you have your eye on but aren't local to us, we can schedule an online appointment using FaceTime, Skype, Zoom, or a similar video chat app. We'll walk you around the car, show you everything inside and out, and explain how its systems work.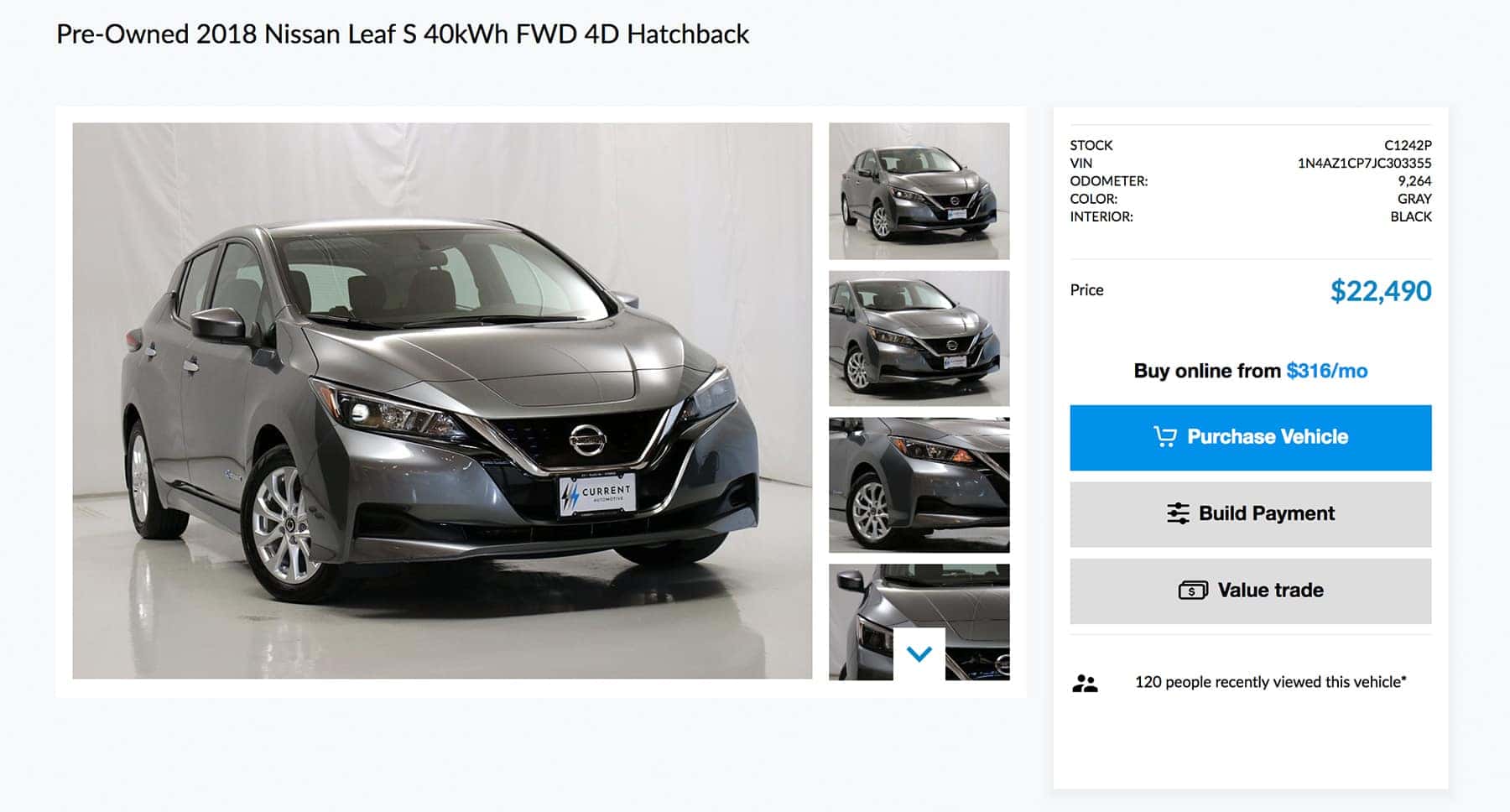 Buy online
Once you've got your heart set on a car, you can place an order online thanks to our partner, Modal.
Start by clicking the "Purchase Vehicle" button on the display page of the car you'd like to order. That will pop up a new window on our site that will guide you through the checkout process.
The first thing you'll see is the price of the vehicle, both alone and including all applicable fees and taxes. We believe in transparency so nothing is hidden, and you can easily see what you'll need to pay for the vehicle.
The total price will be updated if you choose to add anything to the order. We offer delivery for customers who aren't local to us as well as a couple vehicle protection plans including X-Care for Teslas. You'll see a list of available upgrades for the vehicle along with their prices. Add something to the order, or don't! It's up to you.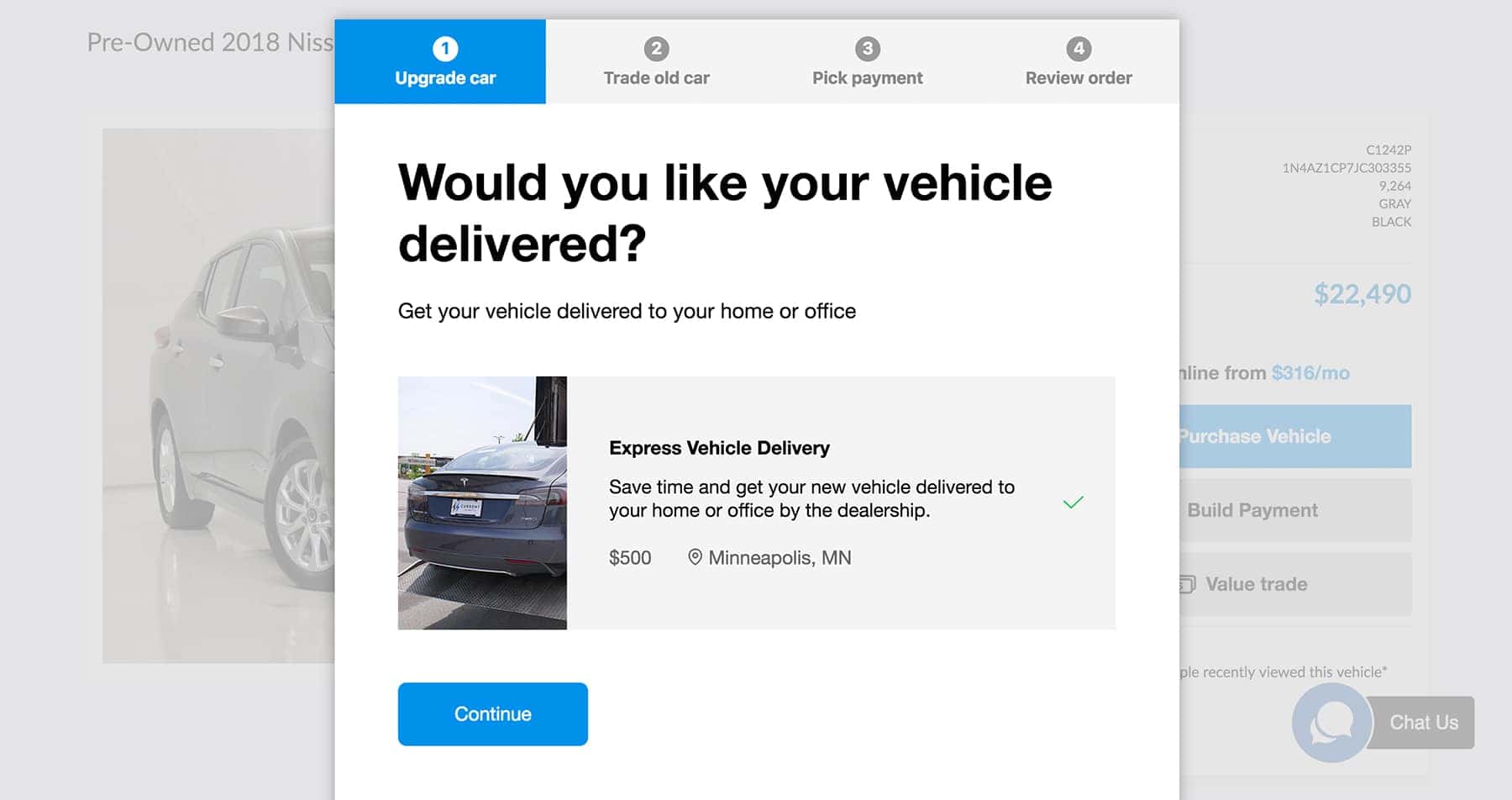 The second section is for trade-in information. You can fill it out to get an estimated trade value for your car, which will be subtracted from the price of the car you're ordering. Did you also know we buy EVs—including Teslas—even if you don't have any intention of buying an electric vehicle from us? Now you do. But back to the buying process.
The third section is where you pick your payment plan. You can choose to pay cash or finance your purchase—there are sliders to help you build a finance payment. If you opt for financing, you'll be prompted to fill out a credit application. At this point, our system will provide you an estimated APR and monthly payment. The actual rate will come later, after our team has gotten in touch to verify your information.
Finally, enter your contact information and click submit! You will receive an email reviewing your order and we'll receive your information.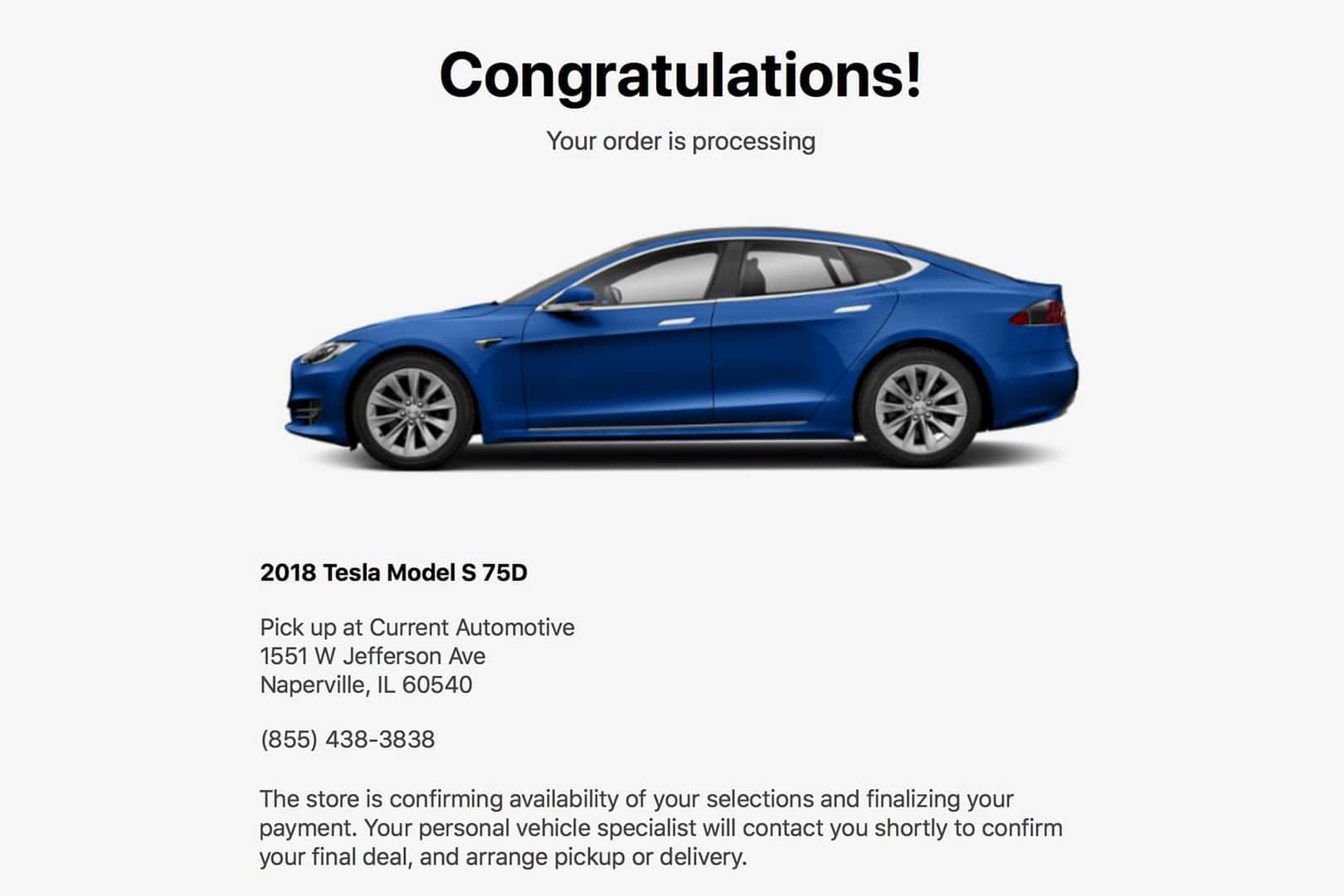 Extra Steps
After submitting your order, you can take some extra steps to save more time down the road. Those include uploading an image of your driver's license, uploading proof of insurance, and sharing pictures of the vehicle you're trading in (if applicable).
You can also select the date and time when you'd like to take delivery of your new car—though we can't promise to make all times work. We like to be asleep at 4 a.m. on a Sunday, after all!
What comes next?
Once we receive your order, we'll get in touch to say hello and outline the next steps—keep reading for a preview of that process.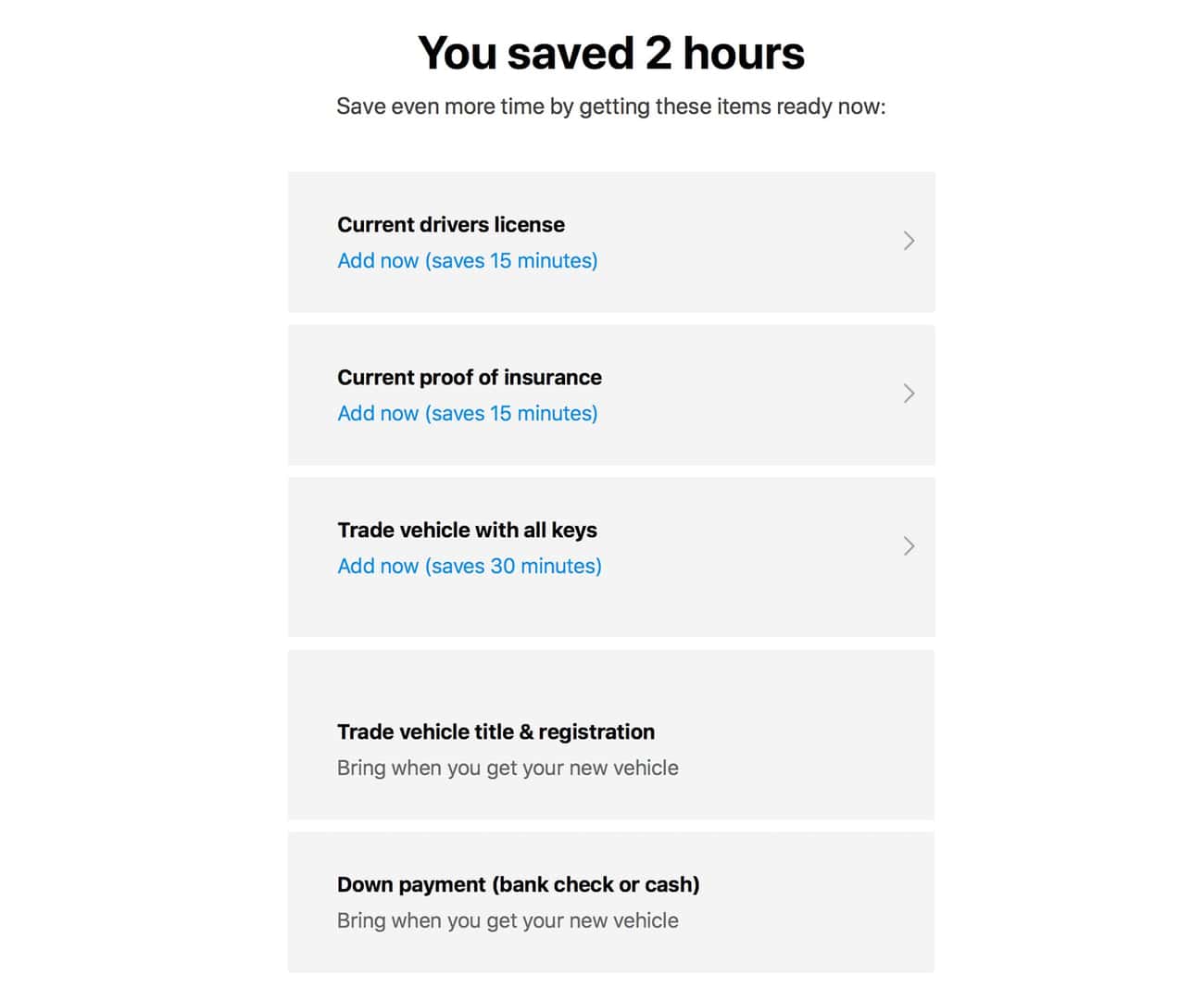 Documents
First, we'll make sure we get copies of all necessary documents from you. (This is why you can upload your driver's license and proof of insurance as an extra step to save time.)
If you have a trade in, we'll evaluate it and give you a confirmed trade value.
If you're paying cash, we'll let you know how much you'll need to bring. We accept credit cards (up to $10,000 per transaction), wire transfers, and personal checks.
If you're financing with us, we'll run your credit and let you know the best rate our banks can offer. We'll work with you to find a down payment, interest rate, and monthly payment you're comfortable with.
If you are planning on taking delivery of your car at our location, we'll arrange a delivery appointment and prepare all necessary documents. The goal is that you can arrive, sign, and drive off in no time.
If you're having your vehicle delivered to your home, we will ship documents and have a notary meet you at a location of your choosing to sign everything.
Once we receive signed documents and payment, we'll schedule shipping. Delivery can take anywhere from 2 to 7 days, depending on where in the United States you live. The transport company will call when they're a day or two out to zero in on a time window for the final delivery.
Now what?
Just plug in—you're Current!