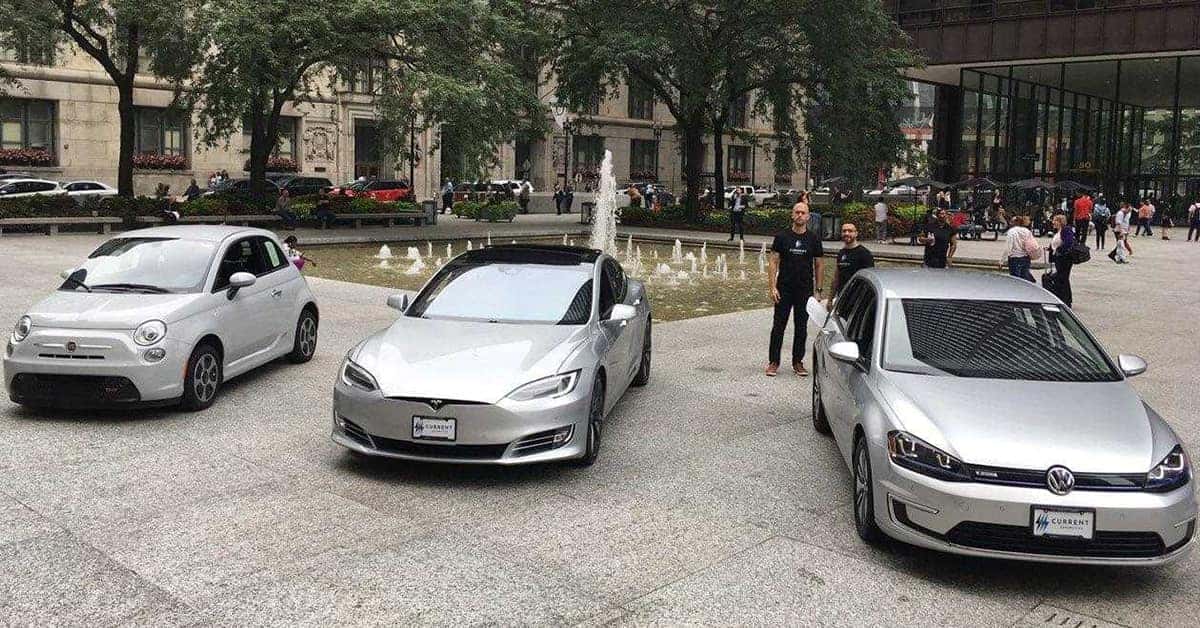 National Drive Electric Week puts EV Education in the Hands of Dedicated EV Drivers
In 2011, the electric vehicle landscape looked like a barren desert compared to the growing forest of options on the market today. The only plug-in cars available were the original Tesla Roadster, Nissan Leaf, Mitsubishi i-MiEV, and the Chevrolet Volt. The Tesla Model S wasn't even out yet.
The limited options didn't stop electric vehicle drivers at the time from sharing their passion and knowledge about their cars and the new technology with a new event, National Plug-in Day, organized by Plug-in America, Sierra Club, and the Electric Auto Association.
The idea, as pitched by Plug-in America co-founder Zan Dubin-Scott and EV driver Jeff U'Ren, was to create an organized set of events to raise awareness of plug-in electric vehicles. The campaign would be managed at a national level, while individual EV owners and clubs would host the events at a local level.
"That first year in 2011 there were 29 events, then the next year it doubled to 65, the next year after that it grew some more," said Noah Barnes, communications director for Plug-in America. "Then in 2014, they decided to make it a whole week worth of events."
What is now National Drive Electric Week boasts over 300 events annually, with a presence in all 50 states and nine countries. The idea is the same at every event: EV owners make their cars available for the public to view and will answer all the questions anyone would want to know about living with an electric vehicle – how charging works, how much range you get in real-world driving, and so-on.
Lack of knowledge is one of the biggest obstacles in the way of electric vehicle adoption. Hands-on education is the solution, it helps get consumers more comfortable with the technology before they make a purchase.
Another EV obstacle National Drive Electric Week helps to overcome is sticker shock. With Teslas and other high-end EVs getting all the attention and glamor, a common misconception has grown that all electric vehicles are pricy luxury cars.
The truth is though that there are more than 40 models of plug-in vehicles on the market from almost every automaker, with prices that run the gamut from $10,000 to over $100,000.
"There are 16 models of all-electric vehicles and over of half of them are under $40,000, many of them are less than $30,000," said Barnes. "You can find used EVs for between $10,000 and $15,000, and what's great about used EVs is that because there are fewer moving parts [than a gas car] there's less that can go wrong."
EV-curious individuals can even test drive cars at some National Drive Electric Week events. The enthusiasm of the owners is apparent as they let strangers get behind the wheel of their own personal electric vehicles just to share the electric driving experience.
After all, electric driving is something better experienced first-hand than explained.
"People can try out the vehicles themselves and see how smooth and quiet they are. People know they're good for the environment, but they don't always realize that they're a better driving experience," said Barnes.
Ask any of the EV owners National Drive Electric Week event what they think of their cars and the message is the same: "I love it, I will never go back to gas."
At time of writing, there's still one weekend left of National Drive Electric Week. You can find one near you at their website.