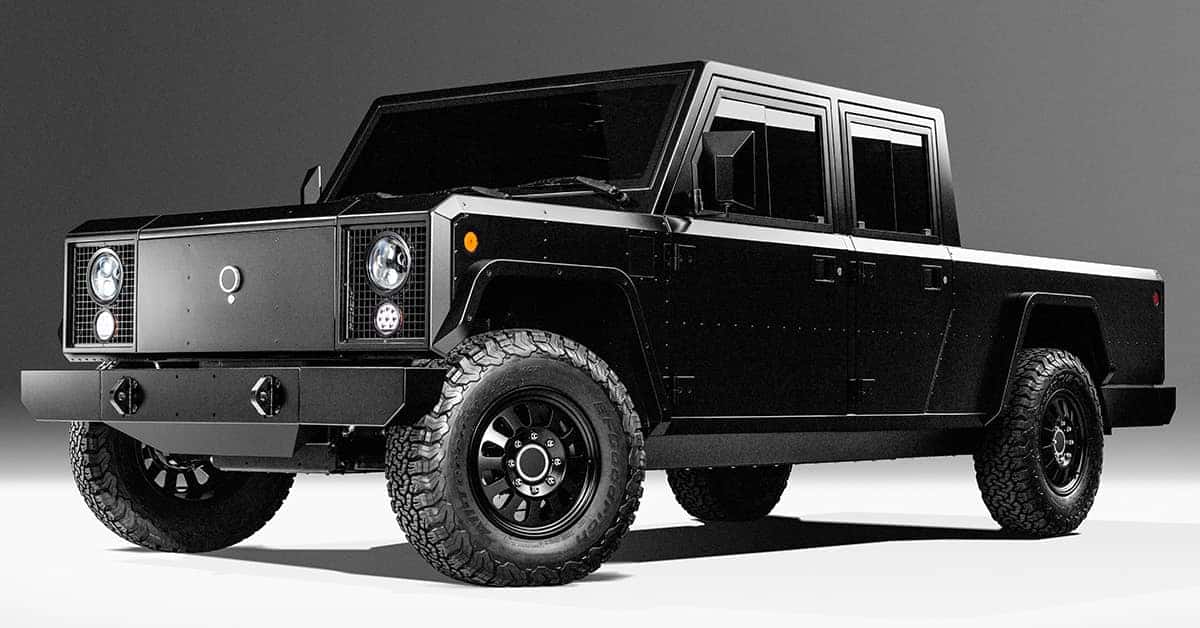 Retro Looks, Current Tech – Bollinger Reveals B1 and B2 Electric Trucks
There may not be a single electric truck for sale just yet, but the segment is shaping up to be hotly contested. Rivian has been building the hype for its R1T, Tesla has teased its "cyberpunk" truck, and Ford has even confirmed the F150 is getting an electric version.
Now, Detroit-based EV start-up Bollinger Motors is throwing its hat into the ring with its four-door B1 and B2 trucks, which it revealed in a YouTube livestream on September 26, 2019.
While they are marketed as different models, they're both built on Bollinger Motors's very own Class-3 truck platform. The only difference between the two is the size and layout. The B1 is billed as a "Sport Utility Truck" with an enclosed hatchback. The B2 is a proper pickup, with a longer wheelbase and enormous bed.
The design of these trucks is strikingly simple: boxes on wheels. The retro look wouldn't be out of place in a lineup with a 1970 Ford Bronco, 1984 Land Rover Defender, and 2018 Mercedes G-Wagon.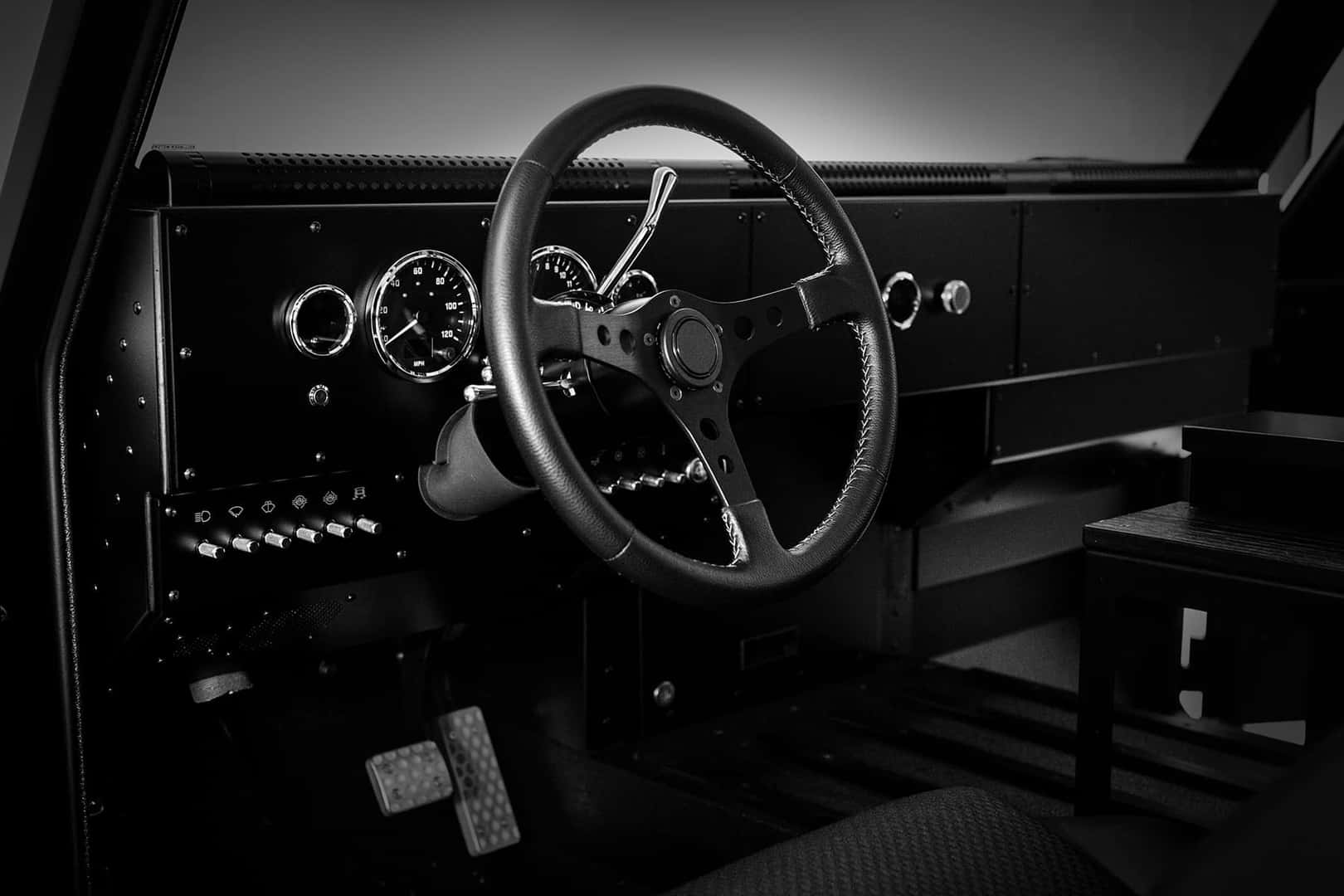 The Bollinger twins even use physical gauges, mechanical switchgear, and a column mounted shifter! The only visual hints of its electric powertrain are a tachometer that runs up to 15,000 RPM and a "Battery Level" gauge.
The design of the B1 and B2 also takes full advantage of the packaging benefits a bespoke electric platform allows.
As expected, it has a flat floor and frunk, and Bollinger has made one incredibly clever tweak to the formula: the frunk opens into the passenger cabin and has a clear shot back to the rear of the vehicle. This means the truck can be used to carry extra-long loads that would have otherwise necessitated a trailer or roof rack.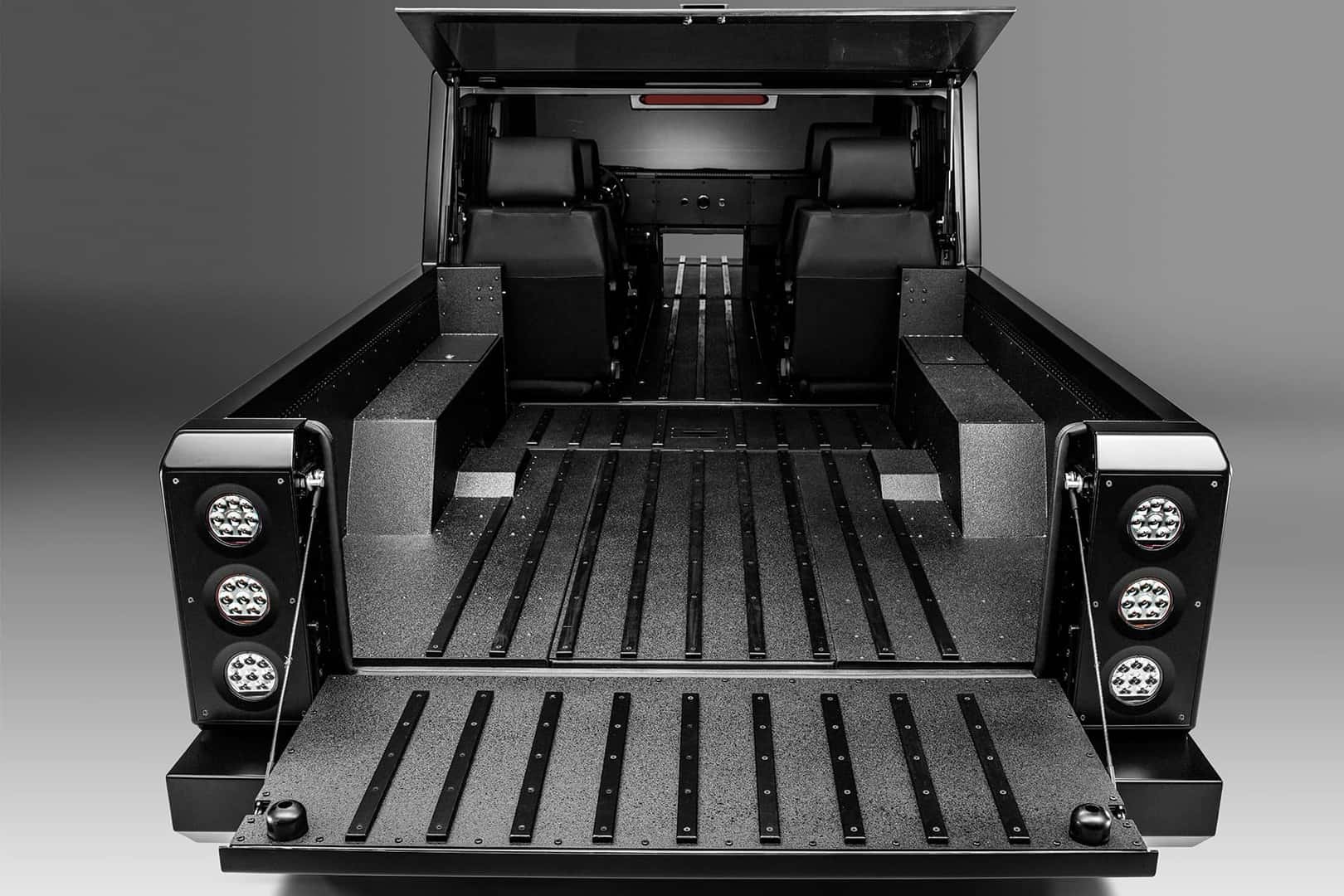 Underneath that flat floor sits the 120 kWh Lithium-ion battery pack—the world's largest yet to be fitted to a passenger vehicle. It powers two motors (one at each axle for all-wheel drive), that produce 614 horsepower and 668 lb.-ft of torque. The B1 and B2 will do 0-60 mph in just 4.5 seconds—just one tenth of a second slower than a Tesla Model 3 Long Range Dual Motor.
That said, trucks have more performance expectations placed upon them than just acceleration. They have to be able to haul, tow, and perform off-road.
Thankfully, Bollinger delivers with tons of space, a 5,201 lb. payload capacity, a 7,500 lb. towing capacity, and some serious off-road capability. They ride high, with 15 inches of ground clearance and 10 inches of wheel travel, and they have a two-speed high/low range gearbox.
Bollinger Motors's website proudly shows off its prototype vehicle off-roading in the desert rock formations of Moab, the forests of Kentucky, and the mountains of Colorado.
The only disappointing spec is range. Despite the gargantuan 120 kWh battery, Bollinger only estimates these trucks will be rated for about 200 miles on the EPA test. There is a price to be paid for having all-wheel drive, off-road tires, and the aerodynamic properties of a brick on wheels.
It's clear that Bollinger Motors prioritized making these vehicles ruthlessly capable over making them economical. They will come with CCS ports for DC Fast Charging, so owners will be able to take road trips on American highways as networks like Electrify America continue building out infrastructure.
Pricing and release timing haven't been provided just yet, but Bollinger Motors knows the B1 and B2 will be released into an increasingly crowded space. The utilitarian approach, retro styling, and on-and-off-road performance could go a long way in setting these two trucks up for success while standing out from the crowd.