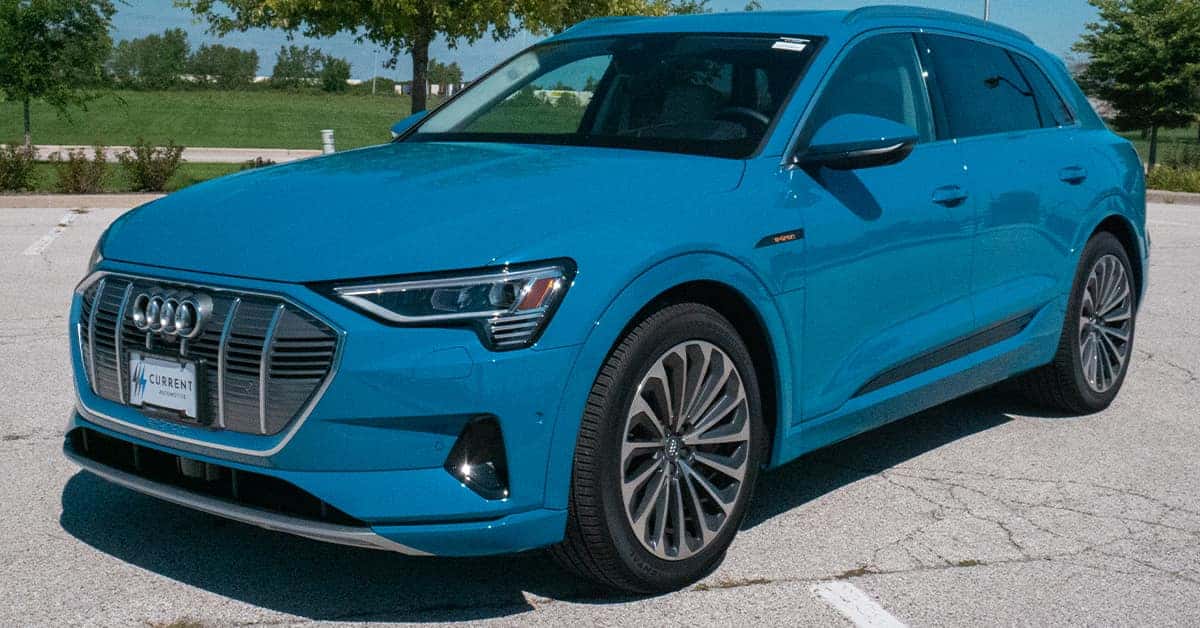 Traditional Luxury Meets Electric Mobility—2019 Audi e-tron Review
When our first Audi e-tron rolled in for photos on a recent rainy Tuesday afternoon, the folks who were in various stages of buying electric cars—along with the staff selling them—stopped what they were doing to check the car out. And this was in a showroom with an original Tesla Roadster on display.
Granted, the most likely cause of that show-stopping moment is this particular e-tron's color: Antigua Blue Metallic. It's a stunning turquoise that calls to mind the color of the ocean in advertisements of luxurious island vacation destinations. More cars should be sold in such bold colors.
Color aside, there's very little distinguishing the 2019 e-tron from Audi's traditional SUV offerings. The rear diffuser and functional front grill are an electric silver, versus carbon-burning black. A couple of orange-accented e-tron badges adorn the front quarter panels, and, of course, there's no exhaust pipe.
Much like the Volkswagen e-Golf, the e-tron isn't trying to hide its electric underpinnings. But it's not exactly boasting about them, either.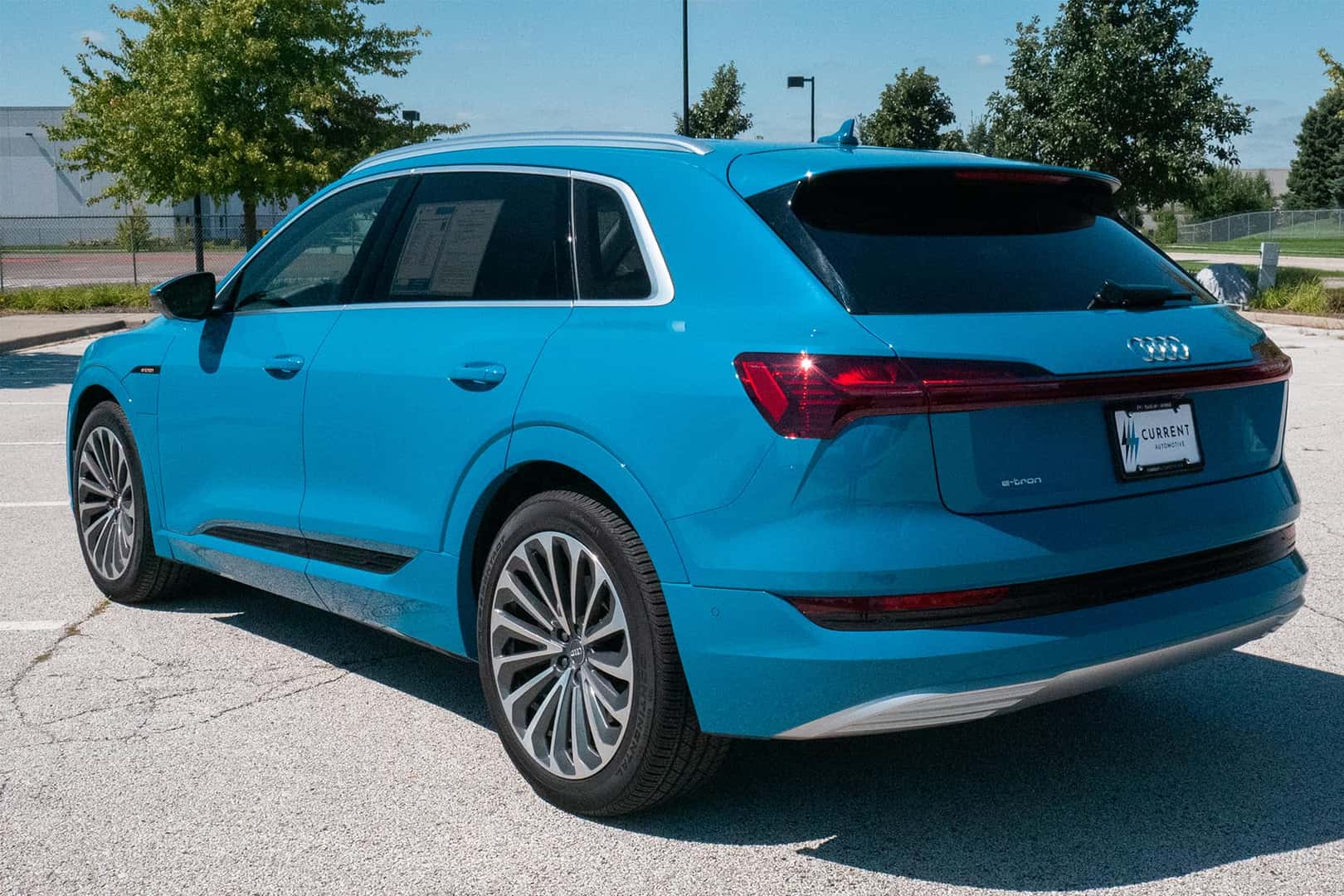 Still, the e-tron drew a crowd. While Teslas never cease to amaze, we know their game by now. The arrival of a brand new long-range all-electric vehicle from an established automaker that hasn't made one before—that demands everybody's attention. What is Audi doing to make their EV special?
That's what I set out to learn when I picked up the keys to take it home.
I have a personal tradition I follow whenever I get into a car I'm unfamiliar with for a drive that will last longer than five minutes: push ALL the buttons. It's the fastest way to come to grips with the adventure game logic traditional automakers seem to use when designing their infotainment system and user experience. Why use three knobs and a button for climate control when you could use two screens with four nested menus?
The Audi actually holds up fairly well in this regard. Climate control gets its own dedicated screen, and controls for media and hands-free phone usage are both easy to find and easily replaceable with Android Auto or Apple CarPlay. A heads-up display and customizable digital gauge cluster round out the places you'll be bombarded with information from.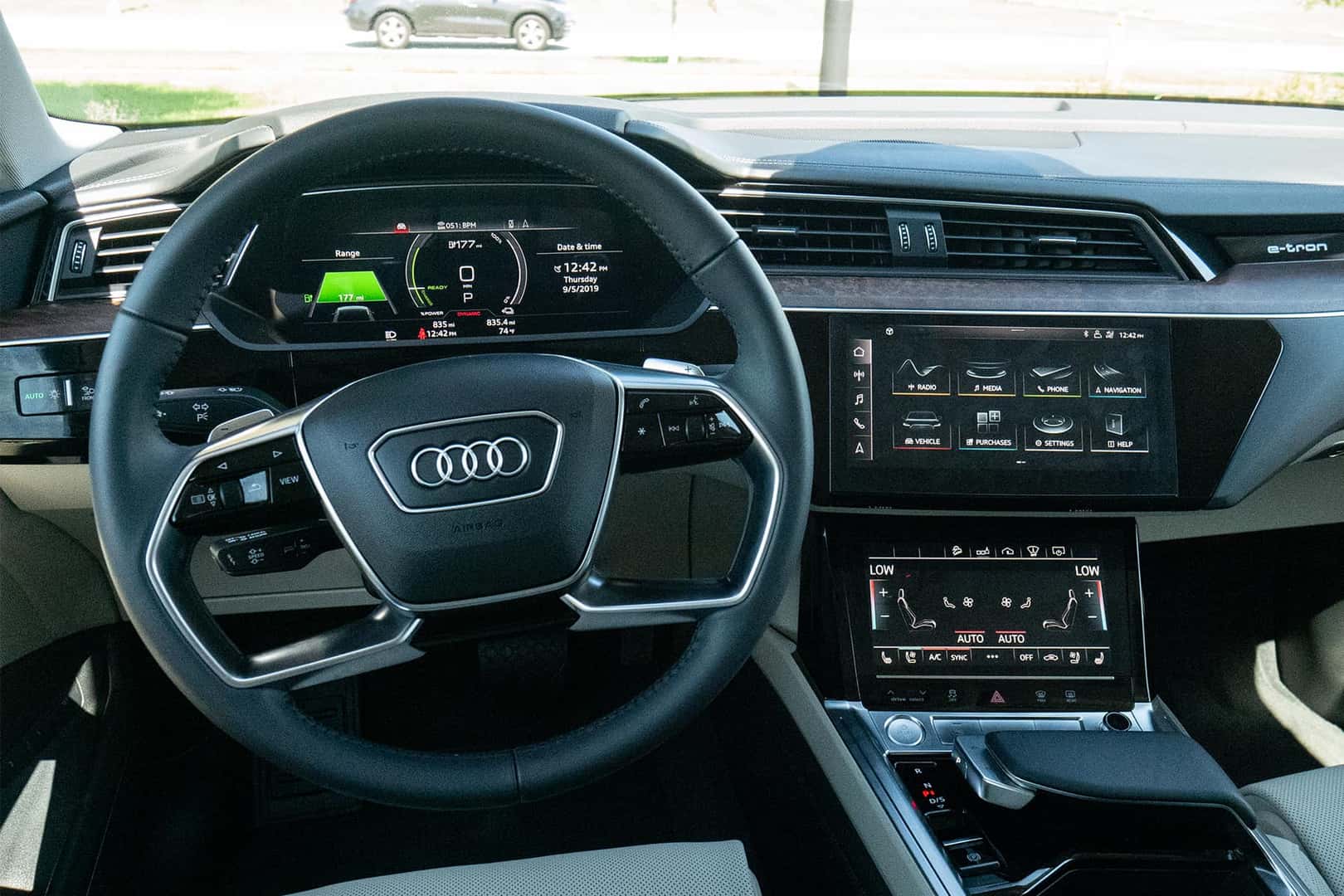 Dig deeper into the screens and you'll discover the host of luxe features the e-tron has to offer: customizable interior trim lighting, a fragrance diffuser with summer and winter scents built into the climate system, and massaging seats with more than a half-dozen programs with names like "pulse," "wave," "activation," and "relaxation."
If asked to describe the Audi e-tron in one word, I'd go with "extravagant."
After deciding massaging seats would be more distracting than relaxing for my first go in this $85,000 car, I put it in drive and pulled away. A soft electric whine rises as you accelerate at low speeds before fading into the background of muted road and wind noise. With no engine noise and huge amounts of effort (and weight) put into sound deadening and ride comfort, the cabin is serene at all speeds.
The electric powertrain also contributes to driver comfort. A virtue of not being powered by explosions is the lack of harsh vibrations. Plus, the accelerator pedal has been mapped to encourage smooth power delivery—you really have to push to get the punch-in-the-gut acceleration EVs are known for, which the e-tron is certainly capable of.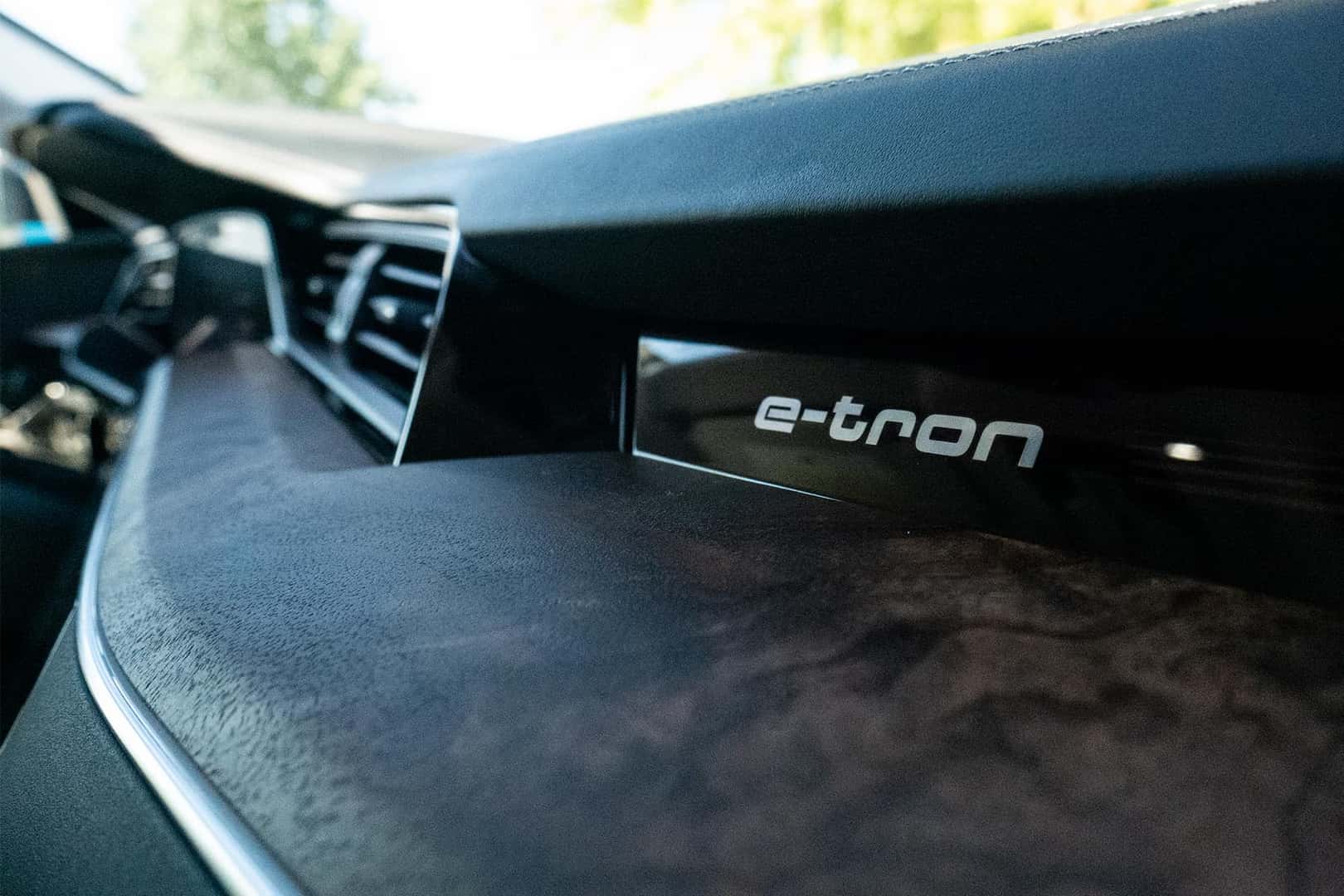 Unfortunately, Audi hasn't taken full advantage of a much-beloved aspect of electric driving: regenerative braking. The e-tron's default behavior when you lift off of the accelerator is to coast, no regeneration happens whatsoever until you press down on the brake. There are two levels of regenerative braking you can turn on that will start to slow down the car when you lift off the accelerator, but neither will bring the car to a complete stop—driver input on the brake pedal is required. Plus, the car will reset to coasting at every complete stop unless you change a setting in the car's menus.
It's disappointing, the e-tron could and should at least offer an option for complete one-pedal driving, even if it's not the default setting.
Thankfully, Audi hasn't skipped out on driver assistance features—the German automaker's implementation of this area happens to be one of the better offerings from a car company not named Tesla.
Adaptive Cruise Assist combines adaptive cruise control and lane keeping assist into one package, and it feels very similar to Tesla's basic Autopilot when in use. It will keep the e-tron centered in its lane and at a set following distance to the car in front, speeding up and slowing down with it, and can even come to a complete stop and get back up to speed. That said, the e-tron demands a tap of the cruise control stalk or accelerator pedal to confirm you're still paying attention before it will resume driving if you're stopped for more than a few seconds.
While Adaptive Cruise Assist isn't as advanced as Autopilot, it does more than enough to nail the real killer application of these features: traffic jams. Stop-and-go highway traffic is the worst, most stressful kind of driving. It is fabulous to let the car handle the heavy lifting and relax in these situations. Audi is just as successful as Tesla is in taking the edge off.
It's maybe even more successful, once you embrace the life of mood lighting, massaging seats, and interior fragrance diffusers.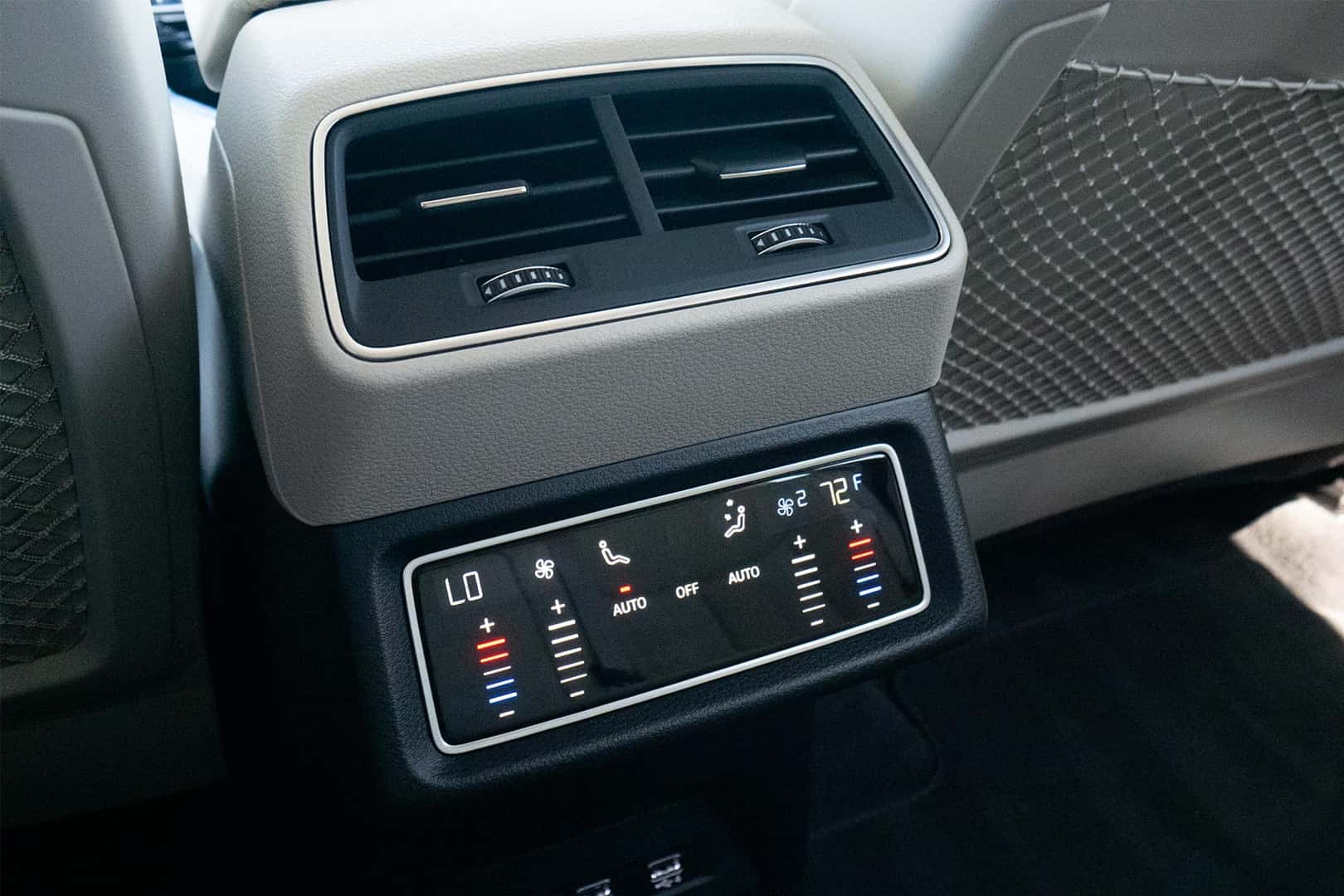 The Audi's creature comforts and excellent road manners betray just how much power is on tap. A 95 kWh Lithium-ion battery pack powers two electric motors (one for each axle) that put out a combined 355 horsepower at any given time. A total of 402 horses can be put to work with "Boost Mode."
Pulling up to the starting line of the Naperville Auto Test Track, I put the Audi in "Dynamic Mode" to lower the ride height, firm up the suspension, and tighten up the steering for a better-handling machine. Not entirely sure what to expect, I kicked the accelerator down past the built-in notch to access Boost Mode and rocketed away.
Audi quotes 0–60 mph at 5.5 seconds when Boost Mode is engaged. While that is slower than a Tesla Model X, it still feels plenty quick for a nearly three-ton SUV. Plus, the e-tron goes from feeling "plenty quick" to "faster than an SUV has any right to be" when taking a corner.
The battery pack alone makes up more than a quarter of the e-tron's 5,700-pound curb weight, and it sits low, underneath the floor of the car. This contributes to a low center of gravity, which improves any car's handling ability. Audi claims the e-tron's center of gravity is closer to that of a sedan rather than a traditional SUV. I believe it.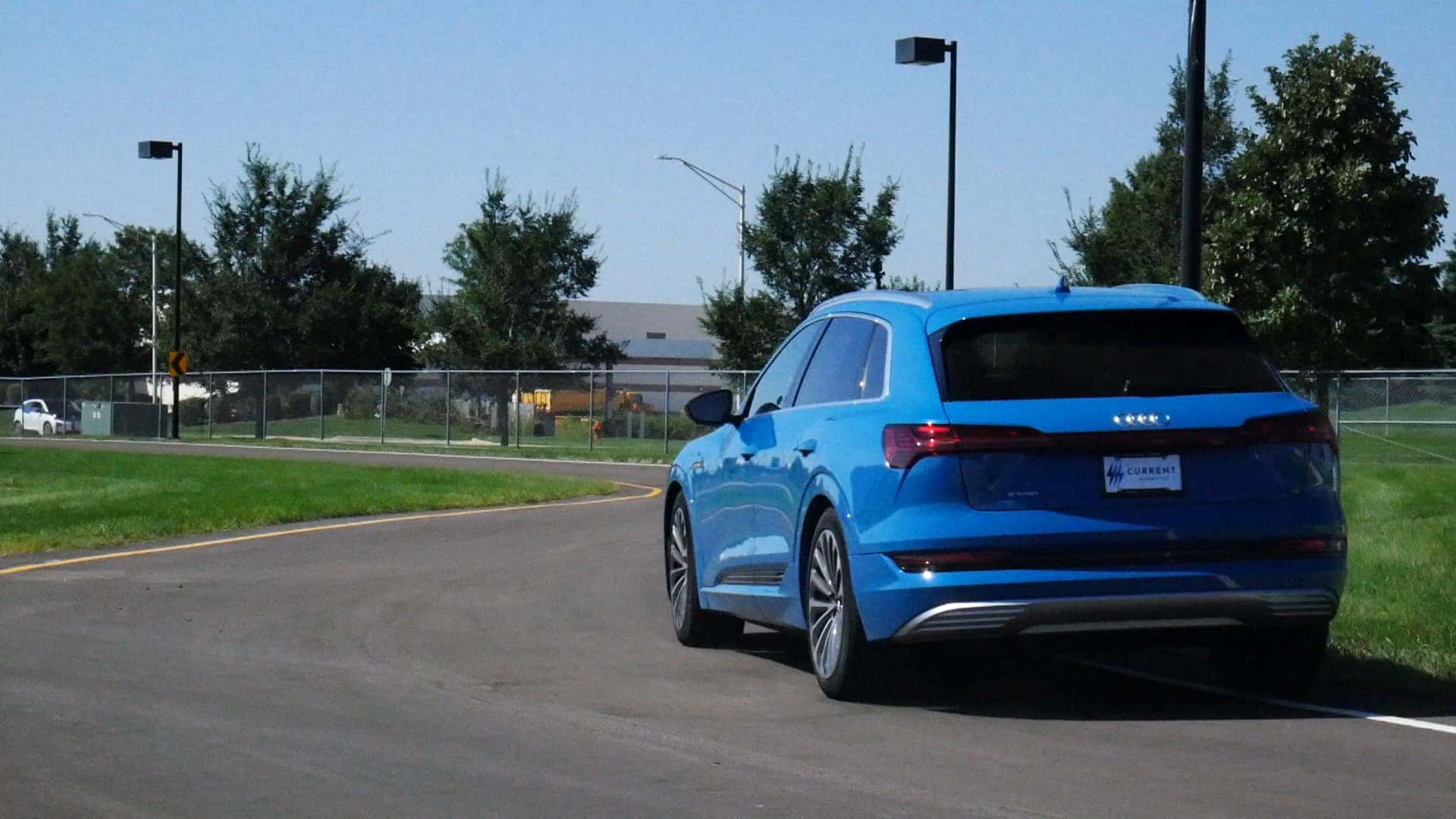 In Dynamic Mode, the steering carries a satisfying amount of weight; it's direct, and it's predictable. The e-tron exhibits little of the body-roll you'd expect from a high-riding SUV and the fat tires provide plenty confidence-inspiring grip. While I don't expect the e-tron to see many track days, it does have something to offer driving enthusiasts.
Electric vehicle enthusiasts, on the other hand, are likely to be disappointed by the vehicle's range. The EPA estimate of 204 miles is low when compared to its contemporaries, including all Teslas, the Jaguar I-Pace, and even the Chevrolet Bolt.
Audi's betting that the comparatively low range can be made up for with high charging speeds. The e-tron features a class-leading 150 kW charge speed on DC fast chargers. At those speeds, the e-tron can be recharged to 80%, or about 163 miles of range, in just 30 minutes.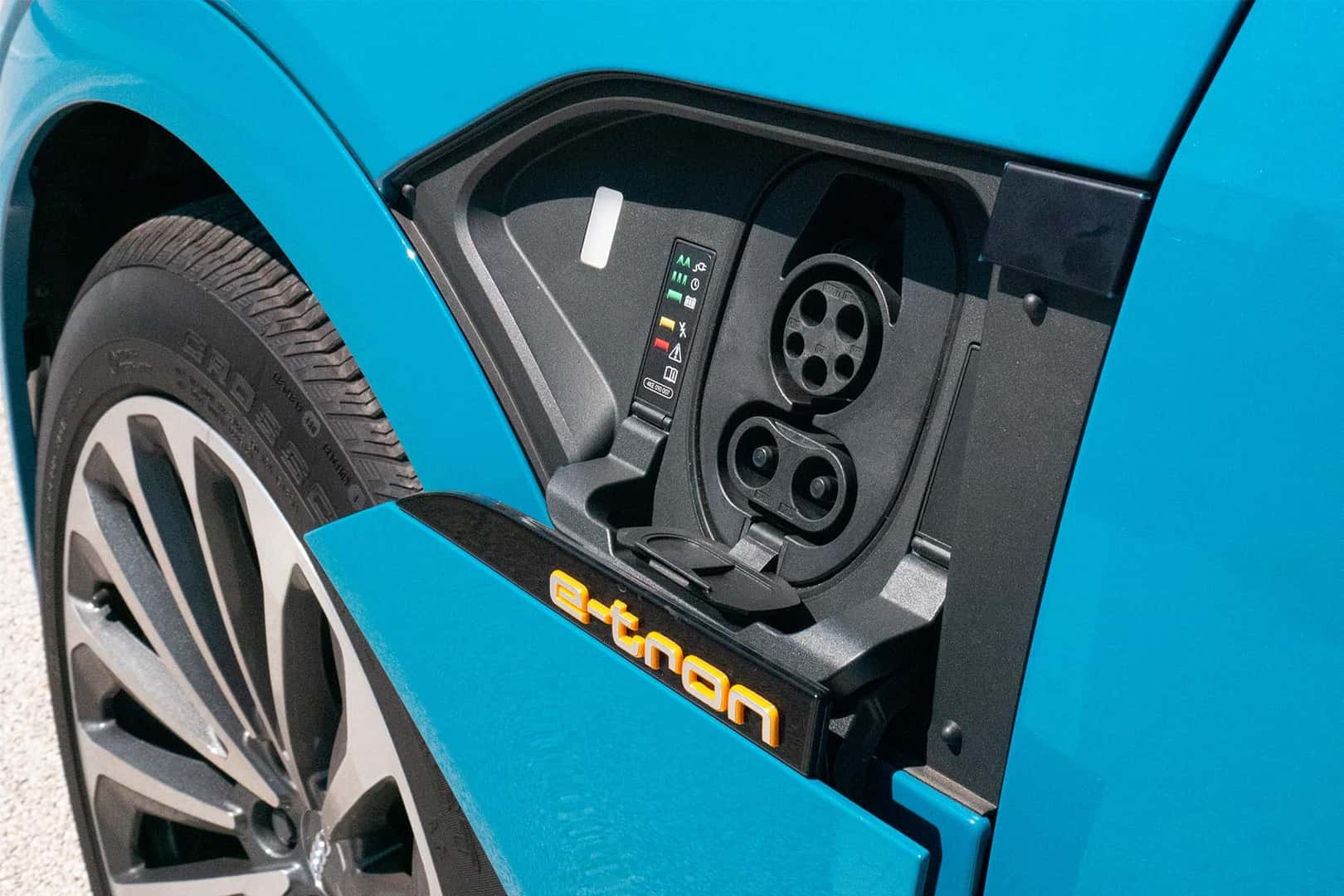 Suitable public chargers are popping up rapidly. Electrify America is owned by Volkswagen Group, and the electric vehicle charging company is building a network of DC fast chargers along public highways. According to Electrify America's website, "nationally, each planned station site will be located no more than 120 miles apart and, on key East and West coast highways, planned locations are only 70 miles apart." As this network gets built out, the e-tron will be capable of cross-country road trips on supported highways despite its low range.
Ultimately, the 2019 e-tron hasn't been designed to appeal to electric vehicle enthusiasts. Its mediocre range, lack of true one-pedal driving, and prominent grill will turn away those who want to see more cars that push the limit of EV technology.
The e-tron has been designed to catch the eyes of EV-curious buyers who don't care for Tesla's space-age approach. Its traditional luxury interior and driving experience will appeal to them—and ease their transition to electric mobility.